Eurozone interest rates unchanged at 0.75%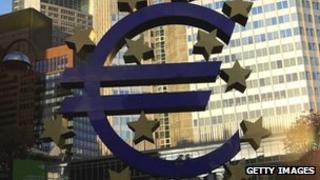 The European Central Bank (ECB) has left eurozone interest rates unchanged at 0.75%, as had been widely expected.
Rates have now been at this level for six months after July's cut from 1%.
Figures released on Tuesday showed that the unemployment rate across the eurozone worsened in November, hitting a record high of 11.8%.
The UK's Bank of England also announced on Thursday that it would be keeping its main interest rate on hold.
'Gradual' recovery
"The economic weakness in the euro area is expected to extend into 2013," said ECB president Mario Draghi.
"In particular, necessary balance sheet adjustments in financial and non-financial sectors and persistent uncertainty will continue to weigh on economic activity. Later in 2013, economic activity should gradually recover."
The economy of the 17-member eurozone bloc is currently in recession, having contracted by 0.1% between July and September, after shrinking 0.2% in the previous three months.
Yet no further cut in interest rates had been expected, with analysts saying it would have little effect, as banks across the eurozone are not offering interest rates anywhere as low as the ECB's main rate.
Banks are also reluctant to lend in the first place, as the wider eurozone economy remains mired in recession at a time when countries such as Spain, Portugal, Italy and Greece are having to continue to carry out extensive austerity measures to reduce their sovereign debt.