Hovis abandons 100% British wheat pledge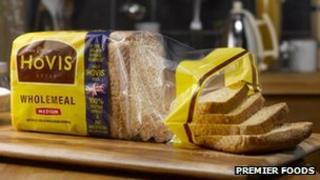 Premier Foods, which makes Hovis bread, is to abandon its pledge to use only British wheat in its loaves.
The company blames the poor harvest in 2012 for the move, together with worries about this year's crop due to recent flooding.
It plans to start using wheat from elsewhere in the European Union in some loaves this weekend and will remove the 100% British branding from them.
Only the Farmers Loaf range will continue to use all British wheat.
Hovis introduced the claim as part of its championing of domestic farmers in 2010.
It said it would still buy as much high quality British wheat as it could and only use EU wheat when necessary.
In a statement, the company said: "Premier Foods remains totally committed to British wheat."
"With the 2012 UK wheat harvest being the worst for more than 35 years, the company is finding it increasingly difficult to maintain the high quality bread standards that it requires.
"Therefore, it has been put in a challenging position and has had no option other than to use a percentage of imported wheat from the EU."
It is expected to reduce its buying of British wheat this year to about 660,000 tonnes from more than one million tonnes last year.
EU wheat will be used in all Hovis bread by the end of January, except for the Farmers Loaf range.
The company pioneered the growing of premium "red" wheat in Britain, which it previously had to import.