Swatch's watch sales stronger than expected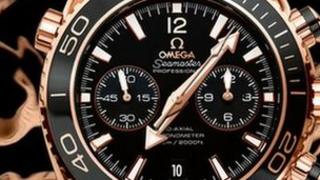 Swatch Group, the world's biggest watchmaker, has reported a better-than-expected rise in global sales for last year.
The Swiss company, which in addition to its own-name watches owns high-end brands Breguet and Omega, said sales had performed well in all its regions.
Swatch's sales totalled 8.14bn Swiss francs ($9bn; £5.6bn), up 14% from 2011.
It will release its full results, including profit details, next month.
Swatch said that while sales of Omega and its other most expensive brands had slowed in China, Chinese consumers were buying more of its cheaper watches.
It also said that globally it had "realised further conspicuous growth in market share".
Swatch said its 2012 profit figure would be "good", despite higher spending on marketing for the London Olympics - where Omega was a sponsor - and currency fluctuations.