China's surprisingly strong trade data fans optimism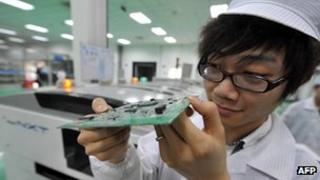 China has reported better-than-expected trade data, adding to optimism that growth in the world's second-largest economy may be rebounding.
Exports, a key driver of expansion, rose 14.1% in December from a year earlier. Most analysts had forecast a figure closer to 4%.
Imports also rose, climbing 6% and indicating stronger domestic demand.
There have been worries about the state of China's economy after growth fell to a three-year low.
"The export data especially is very good news as it shows that external demand for Chinese products is picking up," Dariusz Kowalczyk, a senior economist at Credit Agricole-CIB in Hong Kong, told the BBC.
"A slowdown in global demand had been one of the biggest concerns for China, and this does help alleviate some of those fears."
'Regained momentum'
China's slowdown, which saw growth decline to 7.4% in the July-September quarter, has hurt various sectors of the economy.
However, in recent weeks China has released a string of encouraging economic data which showed that a pick up in November continued into December.
Manufacturing activity in China expanded for a third month in a row in December. At the same time, the country's services sector, which includes construction and accounts for nearly 43% of China's overall economy, expanded at its fastest pace in four months in December.
Industrial production, retail sales and fixed-asset investment were all up in November, while new home prices rose in 53 out of 70 major cities in China in November, from the previous month. That was up from 35 cities which recorded price rises in October.
Credit Agricole-CIB's Mr Kowalcyzk said these numbers coupled with the latest data "confirm that the Chinese economy has regained momentum".
Growth hurdles
However, despite the optimism and indications of a rebound, China still faces potential hurdles that could derail its recovery, not least from ongoing issues surrounding its key trading partners.
The eurozone, one of its biggest export markets, is still grappling with a debt crisis with no long term solution in sight. The crisis has hurt consumer sentiment in the region and dented demand for Asian exports.
Meanwhile, the economic recovery in the US, the world's biggest economy and another key export market, continues to be fragile.
Analysts said that given these issues China's export growth may slow in the coming months.
"If you look at the fundamentals of the US and Europe, this could be a temporary rise," said Ma Xiaoping, an economist at HSBC in Beijing.
To make matters more complicated, Beijing is involved in a territorial dispute with Japan, and it has started to hurt bi-lateral trade between the two. The dispute is yet to be resolved and some even fear that it may flare up again in the coming months.
There are concerns that if the situation in any of these key markets deteriorates, then it may slow China's growth.
"The momentum may be lost if any of these issue spirals into a bigger problem," said Mr Kowalcyzk of Credit Agricole-CIB.