Bournemouth shines light on night time economy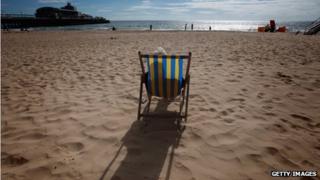 It is low season in one of the UK's most popular seaside resorts.
The sea mist shrouds Bournemouth pier and the lights in the Winter Gardens are haloed with rainbows.
Bournemouth already has an established reputation in Britain. Miles of golden sand beaches have attracted visitors for more than a hundred years.
But more recently the south coast town has tried to attract a new type of tourist - fewer coaches of pensioners, more limos of hen nights.
It is a strategy that has delivered both good and bad results.
'Cafe culture'
Britain's nightlife gets a lot of bad press - the binge drinking, the rowdiness, the associated bad behaviour and trouble for the police.
But what has hardly hit the headlines is the idea that a thriving night life could potentially be the answer to many a struggling High Street.
About one in three of the businesses in Bournemouth's centre are for leisure and recreation - bars, pubs, clubs and hotels.
It is something many towns and cities are noticing, as more and more people use the High Street less for shopping and more for socialising.
"It is much more of a European cafe culture here now," says Kevin Wood, co-owner of the Cumberland Hotel on the East Cliff.
"There was a time when we wouldn't have entertainment, but we put on shows and cabarets now, have two restaurants and even offer afternoon tea."
Night life assets
Bournemouth is one of 36 towns using the Purple Flag scheme to better manage its night time offering.
The city wants to encourage leisure businesses, but not cross the line into becoming a party town that families do not want to visit.
Last year, an independent report criticised the rising levels of anti-social behaviour in Bournemouth caused by hen and stag dos.
Guy Douglas, who has been working on the scheme for the Association of Town and City Centre Management (ATCM), says binge drinking-related crime only becomes a problem if the town does not manage its night time economy properly.
"Nationally, the night time economy contributes £66bn to the UK and employs about 10% of the total UK workforce, so it is definitely an area worth investing in," he says.
The ATCM believes that, with the right thought and organisation, night life can be a real asset, provide growth, boost footfall and breath life into struggling High Streets.
Stationery to tapas
Two entrepreneurs in Bournemouth have certainly reaped the benefits.
JJ Adams runs the fashionable Smokin' Aces whiskey lounge in a space that used to be a stationery shop.
"There's a lot of opportunity to grow a business like this at the moment," he says.
Andrew Lennox runs the Koh Thai Tapas Restaurants chain in the South West of England.
"Our site in Bournemouth used to be a laundrette before we moved in," he says.
"We had to start from scratch and fit the kitchen out, but it offered us great value.
"I think we still need the shops, but restaurants have a growing space on our High Streets."
It is hard to imagine any town centre without shops, but it cannot be denied that Britain's love of food and fun could fill the gaps left by shop closures.
After all, you can hardly shop for mojito online.
So next time you are in the pub, perhaps you can raise a glass to saving your High Street?
BBC Breakfast is visiting a number of High Streets across the UK this week to ask what kinds of shops ensure retail success, whether leisure could trump shopping in our town centres, and what empty shops can become once the clearance sales are over.