Hammersmith and Fulham 'first to cut council tax'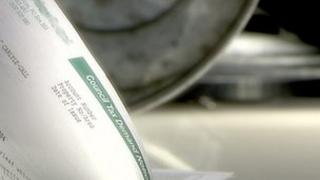 Hammersmith and Fulham (H&F) has become the first authority in England this year, to announce a council tax cut.
The west London Conservative authority will reduce the tax by 3% in April, the sixth year out of seven it has done so.
It shares many of its operations with neighbouring boroughs Westminster and Kensington and Chelsea.
But, Labour's Stephen Cowan, at H&F, accused the Tories of recouping losses, by "bringing in big hikes in more than 500 council stealth taxes".
According to the BBC's Local Government Correspondent, Mike Sergeant, Rochdale and York are among the few councils across England who may increase council tax, with most expected to freeze the fee.
'Lean and agile'
Communities secretary Eric Pickles has called on other councils to follow H&F and adopt innovative ways of protecting frontline services and keeping council tax down.
H&F, which said its ethos meant it was more "lean, agile and in tune with residents concerns than ever before", said it would also be freezing parking charges.
Its leader, councillor Nicholas Botterill, said: "While council tax is falling year after year, our parks have never been greener, our streets are cleaner, our schools have never performed better and residents are noticing the improvements."
He said the top three factors to improving front-line services while delivering savings are to strip out duplicated layers of management, reduce debt repayments to the banks and drive down accommodation costs and overhead.
Meanwhile, Labour Group leader Mr Cowan said: "I welcome the £25 total reduction off the yearly council tax bill but am against to the silly ways they waste public money.
"Two years ago the Conservatives increased parking charges by 55%, they added £220 to child care charges in one year and voted through new charges for residents who use a personal trainer in local parks."
He also claimed they had wasted £70m on new Town Hall offices.
A Hammersmith and Fulham Council spokesman said Mr Cowan's claim about the £70m was incorrect.
He said the authority's planners had approved the King Street regeneration project for the area around Hammersmith Town Hall in November 2011, and the proposals were referred to London mayor Boris Johnson.
The council then withdrew the application because the Greater London Authority had concerns over the proposed height of two of the residential blocks.
The spokesman said the plans would not have had any cost to the taxpayer as they would have been financed by the developers selling flats.
He said plans for a new scheme were likely to be put forward at a later date.