US oil production 'to jump by a quarter by 2014'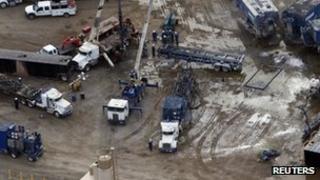 US oil production will jump by a quarter by 2014 to its highest level in 26 years, figures suggest.
This is mainly because of the discovery of vast reserves of shale oil.
The Energy Information Administration (EIA) in the US also forecast average global oil prices would fall from $112 a barrel in 2012 to $99 in 2014.
It said US oil imports would fall by a quarter between 2012 and 2014, because of rising domestic production and the discovery of shale gas.
US oil imports have been falling since 2005, when they stood at 12.5 million barrels a day. By 2014, they will have halved to six million barrels, the EIA said.
Domestic production, which stood at 6.4 million barrels last year, will rise to 7.9 million barrels next year, the highest level since 1988.
"US oil production is rising extraordinarily quickly, entirely because of the application of fracking, [which is] unleashing very significant new resources into the market," Seth Kleinman, global head of energy strategy at Citigroup, told the BBC.
Fracking is the process of blasting water at high pressure into shale rock to release oil or gas held within it. It has become widespread in the US and domestic gas prices have plummeted as a result.
Many have hailed shale gas as the saviour of the US energy market. In fact, the International Energy Agency (IEA) has said it expects the US to overtake Russia as the world's biggest gas producer by 2015 and to become "all but self-sufficient" in its energy needs by about 2035.
But critics of shale gas point to environmental concerns such as high water use and possible water contamination, the release of methane and, to a lesser extent, earth tremors caused by drilling.
The process has been banned in France, while the UK recently lifted a moratorium on drilling for shale gas.
'Transformational shift'
Shale gas also helps to explain the sharp drop in US oil imports forecast by the EIA in the next two years.
The move away from oil "is being driven by tighter fuel economy mandates and the transformational shift from oil to natural gas, which is extraordinarily cheap compared with oil", says Mr Kleinman.
But the US will continue to increase oil production for domestic use and to generate revenues from exports.
The US will overtake Saudi Arabia as the world's biggest oil producer "by around 2020", an International Energy Agency (IEA) report predicted at the end of last year.
In fact, global oil production will continue rise, thanks to the discovery of shale oil.
"Total oil production is about to rise," Fatih Birol, chief economist at the IEA, told the BBC.
"We estimate total oil production to reach about 100 million barrels a day, about 20 million higher than today.
"This growth comes from unconventional [shale] oil."
The discovery of shale oil means global oil production will not peak in the next 20 years, Mr Birol added.
The increase in oil production comes at a time when coal production is also rising sharply, largely to provide cheap energy to meet exploding demand in developing economies, particularly in Asia.
The increase in production of both coal and oil has raised concerns about meeting carbon dioxide emissions targets, designed to slow the rate of increase in global temperatures.