Sainsbury's tells shoppers' story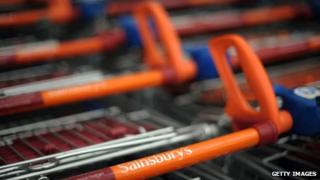 The detail of Sainsbury's better-than-average trading performance for the 14 weeks to 5 January confirm the big trends in retailing and consumer spending.
Shoppers are trying to spend less and increase saving (where they can, in an era where disposable incomes remain under relentless pressure).
So the weekly big food shop in a large supermarket is still shrinking, in a prolonged way that is almost without precedent.
This is about consumers minimizing waste. Or at least that is what Justin King, chief executive of Sainsbury's, tells me. And it is the basis on which Sainsbury's has been shaping its business.
So how is it that Sainsbury's succeeded in increasing its like-for-like or underlying growth for the 32nd consecutive three-month period (which I am pretty sure is eight years without a hiatus)?
Well apparently we are thriftily using up what we buy in our main shopping expedition some time during the week, and then popping out to smaller shops to top up.
And we are also looking for better value by going online.
Here are the Sainsbury's numbers that tell that story.
Like-for-like or underlying sales rose 0.9% in the period, or 0.4% excluding the benefit of enlarging some stores. That represents less than half the growth rate in the first six months of the year - so the climate remains tough.
However, within sales that grew 3.9% in total (including fuel, new stores and so on), sales from smaller or convenience stores grew an impressive 17% and online revenue was 15% higher.
Also, in a flat basic food market, clothing sales increased 10%, and small electricals were up 24%.
Which says two things.
First that Morrisons, which recently reported a fall in like-for-like sales, was spot on in pointing to its de minimis presence in convenience and online shopping as significant sources of weakness.
Second - as if you needed telling - retailing will for some time remain all about trying to win a bigger slice of a cake that cannot grow in any meaningful way.