Greggs' Christmas trading hit by wet weather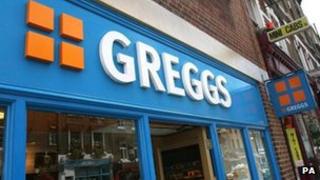 Greggs, the UK's largest bakery chain, says the recent spell of wet weather hit trading in the run-up to Christmas.
In the five weeks to 7 January, sales at stores open for at least 12 months fell by 2.9% from a year earlier.
The firm said it also suffered from two of the busiest shopping days in the period falling on a Sunday, when shopping hours are restricted.
Greggs also hinted it was likely to increase prices this year because of the rising cost of ingredients.
Expansion continues
Sales at Greggs' High Street stores were hit by the heavy rain and flooding seen in December.
"What we saw in the run-up to Christmas this year was the most severe flooding in southern England, southern Wales, parts of Scotland and in the Midlands," said chief executive Ken McMeikan, who announced last month that he would be leaving the firm to join catering group Brakes.
"It certainly has had an impact on our like-for-like [sales]."
Mr McMeikan also said that the retailer would probably raise prices slightly this year to help cover the increasing cost of ingredients. Flour prices have risen by up to 25% and meat prices have also risen sharply.
"Sadly there's likely to be some increases for our customers, but it will be pennies," he said.
For the financial year - the 12 months to 29 December - Greggs said its total sales were up 4.8%, while like-for-like sales dropped 2.7%.
During the year, the company opened 121 new shops and closed 21. It now has 1,671 shops in the UK.
Greggs had warned in October that its underlying sales were expected to fall as customers continued to economise.
In its latest update, Greggs said that the tough trading environment was expected to continue into 2013.