Alcoa expects brighter year ahead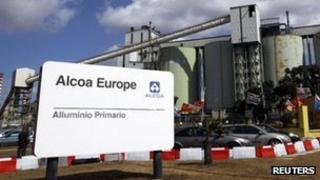 US aluminium giant Alcoa has posted fourth-quarter profit in line with estimates and expressed cautious optimism that demand will continue to grow this year.
It posted a net profit of $242m (£151m) for the last three months of 2012, compared with a $191m loss a year ago.
Sales fell 1.5% on the same period a year earlier to $5.9bn, but still beat analysts' expectations.
The company expects global aluminium demand to grow 7% in 2013.
This would be a slight rise on the 6% growth seen in 2012.
The firm believes demand for aluminium this year will be driven by the aviation and construction industry and it continues to forecast a doubling in global aluminium demand between 2010 and 2020.
Shares in Alcoa rose 1.3% in after-hours trading after finishing the regular session flat.
'Strong position'
The company traditionally marks the unofficial start of the US corporate earnings season.
It said that despite low aluminium prices, it had ended 2012 in a strong cash position.
"We overcame volatile metal prices and global economic instability to deliver on our targets for the fourth year in a row," said Klaus Kleinfeld, Alcoa's chairman and chief executive.
"We enter 2013 in a strong position to maximise profitable growth," he said.