Bedminster's High Street fights back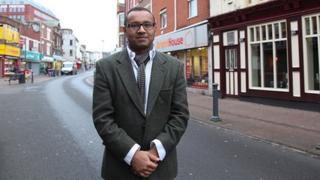 The sun has yet to rise over Bedminster and already there are people out and about.
East Street Fruit and Veg market is unpacking deliveries, the bakery next door is churning out wafts of cinnamon, and over at Cash Converters a small queue is forming in the drizzle.
The High Street in this south Bristol suburb is burdened with the same problems as many towns.
Its traders have slowly had their incomes taken away by big supermarkets or the shiny new shopping mall in the city centre.
The department stores and tobacco factory in this formerly grand Victorian street once cruised by trams and horses are now under new management. Charity shops and discount stores have failed to fill a void and locals have been left uninspired.
More than one in 10 retail spaces in the UK are standing empty. In Bedminster, that figure is one in five.
But over the past few months their dedicated Town Team have worked hard to turn this around.
Last December, Bedminster was awarded £100,000 under the government-backed Portas Town scheme.
That cash injection is there for them to use however they want, to get people back to the High Street.
"We're working together to make Bedminster a place to visit," says Town Team chairman Ben Barker.
He and his team have cleaned up the rubbish and organised events, such as Christmas markets and street theatre.
An installation of brightly painted metal insects - 'Bed Bugs' from artists and schoolchildren - will go up this year.
"It is great to see everyone working together like this," Mr Barker says.
Boarded up and unloved
Perhaps it really is working. Six months ago, eight units on East Street were empty. Now there are only four.
But can arts really blow away the clouds from the perfect storm battering the UK economy?
The recession snapped at retailers from two ends - both inhibiting consumer spending and sending the value of the properties shops inhabit crashing.
Many retailers became "highly leveraged" - taking on big debts to keep trading, thus exposing them to takeover bids by rivals.
Add to this technological advances that have found more of us clicking and consuming from the comfort of our own homes, and many shops have simply found themselves surplus to public requirements.
Many High Streets that were once the heartbeat of communities have lost their rhythm and are now run down, boarded up and unloved.
'Clone towns'
In Bedminster, the big question is: Will the Town Team's endeavours last?
"It's a move in the right direction," says Bill Grimsey, former chief executive of Wickes and Iceland.
"But the sad truth is, the High Street's days are numbered.
"Our needs have changed. Communities will use the High Street for recreation or even for housing, but for retail it is over."
Mr Grimsey blames the bigger business buyouts behind many British retailers; private equity companies that some say have stripped shops of their staff and property, creating run down "clone towns" that no-one wants to visit.
Hence, as nice an idea as the Portas Towns may be, Mr Grimsey feels there's more gimmicks and public relations than actual long-term solutions.
"The High Streets will have to reinvent themselves completely," he says.
Nostalgia not enough
Louis Agabani says locals should strike back online.
He has created MyHigh.St - a site that allows consumers to shop online from their local community.
"People still want to know what they're buying and where it's from, but they may not leave the house to shop," he says.
The site is only six months old, but Mr Agabani says he is getting new enquiries every day.
There is no doubt that wherever you go in the UK, the High Street holds a special place in our hearts.
And yet, no amount of nostalgia is making us utilise them as we once did.
BBC Breakfast is visiting a number of High Streets across the UK this week to ask what kinds of shops ensure retail success, whether leisure could trump shopping in our town centres, and what empty shops can become once the clearance sales are over.