Co-op bank fined £113,300 for stalling over PPI claims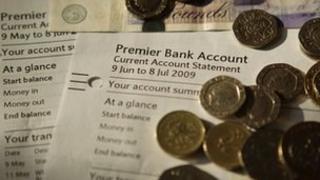 The Co-op bank has been fined £113,300 by the Financial Services Authority for delaying complaints about Payment Protection Insurance (PPI).
The bank put 1,629 complaints on hold in the first half of 2011, while the banking industry was in the High Court challenging the FSA's new PPI rules.
The FSA warned the banking industry at the time that complaints should be dealt with as normal.
The Co-op admitted that its procedures had "fallen short".
The bank had wrongly put the complaints to one side until the court case was lost.
Tracey McDermott, the FSA's director of enforcement and financial crime, said: "The FSA made it clear that firms must continue to process complaints where possible during the judicial review and we warned that enforcement action could be taken if this was not done.
Despite this warning Co-op put in place a policy that was likely to lead to complaints not being dealt with properly during the legal proceedings.
"While nobody suffered any financial loss, Co-op's actions meant that a significant number of people had the resolution of their valid complaints delayed for no good reason," she added.
Mis-selling bill
It was standard practice for banks to put complaints on hold at the time, so it is likely that many other banks may soon suffer a similar fine.
In January 2011, the FSA wrote to both the British Bankers' Association (BBA) and the Building Societies Association (BSA), saying: "We will take tough action against any firm which cannot demonstrate it is delivering fair outcomes for consumers, including because the firm is inappropriately relying on [part of the FSA's complaints rules] to defer consideration of those PPI complaints that could and should be progressed during the judicial review."
However the FSA refused to say how many other banks, if any, are in line for similar punishment to that of the Co-op.
Once the banks lost their legal case in April 2011 the floodgates opened, and they have been deluged with several million claims for compensation for the past mis-selling of PPI.
They have already put aside more than £12bn to pay the bill and it is widely expected that the level of compensation will rise even further, possibly to £15bn or more.
The Co-op admitted it had made mistakes two years ago.
"In this instance, our procedures have fallen short of the high standards rightly expected of us," said a spokeswoman.
"We accept that there was an unnecessary delay created for some of our customers, including the small sample of cases reviewed by the FSA.
"We have co-operated with the FSA throughout their investigation and we are confident that this would not occur again if similar circumstances were to arise," she added.