Mortgage approvals still rising, Bank of England says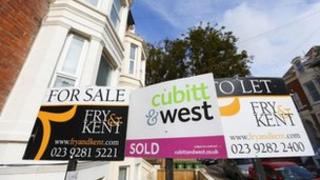 The UK property market is picking up, according to figures from the Bank of England.
In November the number of new mortgages approved for home buyers, but not yet lent, rose to 54,036 - the highest November figure for three years.
Approvals hit a low for the year of 44,523 in June, but have been rising steadily since then.
This suggest the Bank's Funding for Lending Scheme (FLS) is encouraging more lending to home buyers.
The number of approvals is regarded as a good indicator of forthcoming trends and suggests that sales will keep on rising in the coming months.
In the first 11 months of 2012, completed sales were 6% higher than in the same period during 2011.
On Thursday, a survey of lenders by the Bank reported that FLS had encouraged more lending in the final three months of 2012, and that there would be a significant further increase in 2013.
Both the Council of Mortgage Lenders and the Royal Institution of Chartered Surveyors have predicted that FLS will help to revive lending and sales this year.
But Capital Economics suggested there may not be much more improvement to come.
"Mortgage approvals are continuing to rise, helped by a further decline in mortgage rates," said the economics consultancy.
"But with the improvements in both now starting to slow, hopes that the first half of this year will see a material improvement in housing market activity are likely to be disappointed."
Other figures from the Bank of England showed that the stock of mortgage debt owed by UK home owners has continued to hover at record levels, despite the stagnation of the property market since the credit crunch started in 2007.
Home owners owed £1.15 trillion in August that year, a figure which continued to grow until it reached £1.24tn during most of 2010 and 2011.
The amount of mortgage debt started rising again in late 2011, and reached its current level of £1.264tnin September 2012.