Spain agrees Parador hotels cuts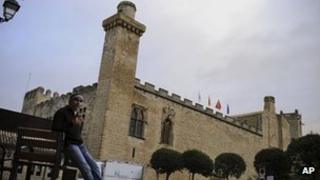 The Spanish government is closing one of its Parador hotels and laying off 350 staff, after reaching agreement with unions.
The chain of 94 hotels in converted castles, mansions and monasteries dates back to 1926.
The government announced plans in November to close seven hotels and cut 644 staff, but has reduced that after strikes and negotiations with unions.
The only site to close will be Puerto Lumbreras in southern Spain.
The state-run Paradores de Turismo lost 77m euros ($101m; £62m) in 2011. Its occupancy rates has fallen from 70% in 2007 to 52% last year.
The company said it expected its losses to have widened to 107m euros in 2012, despite cost-cutting measures.
Parador staff have held a series of strikes in recent weeks, including on 31 December and 1 January.
Although only one hotel will close completely, about 30 others will close for between two and four months each year, down from the originally planned five month closures.
About 15 of the chain's restaurants will also be closed.
Spain has the highest level of unemployment in the eurozone, but tourism remains one of its few growth sectors.
Nonetheless, the sector has not been immune from job losses, with the airline Iberia in talks with unions about cutting 4,500 jobs.