Is the mortgage freeze about to thaw?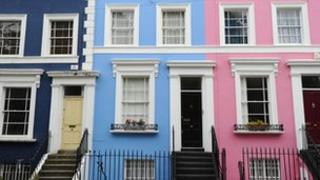 Thousands of people should find it easier to obtain a mortgage and buy a new home in 2013.
The property market has been suffering a severe depression since 2008, thanks to the after-effects of the credit crunch and the banking crisis.
But a significant boost came in August last year.
The Bank of England launched an initiative - the Funding for Lending Scheme (FLS) - aimed in part at encouraging more lending to home buyers.
The scheme involves offering up to £60bn in cheap money to banks and building societies, in the expectation that they lend it to people and businesses and avert any further slowdown in the wider economy.
"For people who have only got a 10% deposit, there are definitely better options now than there were even six months ago and I suspect the options will be better again by the end of this year," says Ray Boulger of mortgage broker John Charcol.
"We have seen more lenders come into the 85% and 90% loan-to-value space, with more competitive deals, and I think that trend will continue as FLS continues to give lenders more cheap funds over the course of this year," he adds.
'Incredibly difficult'
In fact, the number of completed house sales rose by 6% last year to about 930,000, despite banks and building societies continuing to ration their mortgage lending to only the most credit-worthy of borrowers.
Meanwhile the number of new mortgages approved, but not yet lent, picked up in the last few months of the year, suggesting more sales ahead.
So FLS seems to be having some modest effect and, on the face of it, the prospects for more people to buy their first home, or move to another one, are now better than for several years.
But property commentator Henry Pryor warns against too much optimism.
He points out that millions of people are still prevented from moving, either because past house price falls have eroded the equity in their homes, effectively locking them in to their current properties, or they cannot put down the huge deposit typically asked of a first-time buyer.
"You can't throw £5bn to £10bn at the mortgage market and not see some sort of result," he says.
"But it is still going to be incredibly difficult for the vast majority to access the deals that we are going to see lenders offering, because most people still won't have the pre-requisite 25% plus deposit."
What do lenders think?
Two of the biggest lenders are the Halifax, part of the Lloyds Banking Group, and the Nationwide building society.
They argue that caution by would-be buyers has had a dampening effect on borrowing and house buying, and will continue to do so, FLS or no FLS.
"We will still see high levels of unemployment and a lot of pressure on household finances - it's going to make people cautious about going out and buying a home," says Martin Ellis, housing economist at the Halifax.
"We would have to see really solid signs of a significant economic improvement [to stimulate more lending] - it's going to be a slow recovery," he adds.
His counterpart at the Nationwide, Robert Gardner, takes a similar view.
He argues that things will continue to be very subdued in the coming year, because the economy is likely to stay flat.
"We are expecting the economy to be fairly weak, and that to translate into another year of weak housing market activity with prices remaining flat, or falling," he says.
Few forced sellers
Depending on which house price index you look at, in 2012 average prices were either up a bit or down a bit.
This disguised big regional variations, with the bubble economy in London pushing up prices there significantly, while they fell in other parts of the country.
Why haven't prices fallen further, on average, given the restricted number of buyers with adequate finances?
Mr Gardner reminds us that the growth of the population has been far outstripping the hopelessly inadequate level of new house building, while the number of people in employment has been rising.
"There is already quite a large gap between the rise in the number of households that have been formed in recent years, and the number of houses that have been built," he says.
"If you look at England, the official projection is that up to 2033, about 230,000 new homes will be formed every year, but at the moment we are building fewer than 150,000 homes every year.
"And we haven't had waves of forced sellers, either because they have lost their jobs or their payments have increased significantly - that hasn't happened," he adds.
Private landlords thrive
The growing population has meant ever rising demand for rented accommodation.
Last year the Survey of English Housing revealed that there had been an 8% rise in the number of households renting from private landlords, to 3.62 million or 16.5% of all households.
That was almost as many as lived in council or housing association homes.
Meanwhile rents have been rising briskly to stand at an average of £741 pounds a month for private tenants in England and Wales.
So one group of people who do not seem to have much trouble borrowing money are buy-to-let (BTL) landlords.
The figures make startling reading.
There are now 1.44 million BTL mortgages outstanding, a record number and now nearly 13% of all residential mortgages. That is almost a million more than there were a decade ago.
Bernard Clarke, of the Council of Mortgage Lenders, says the buy-to-let industry should continue to thrive.
"There is still a shortage of homes being constructed and demand in the rental sector remains strong," he says.