Mobile and broadband contracts face Ofcom price action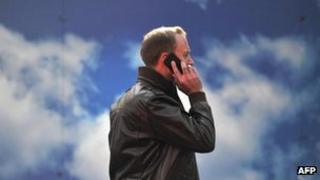 Phone and internet customers may soon be allowed to escape their fixed contracts, without penalty, if the price is put up mid-contract.
The telecoms regulator Ofcom has started a consultation on such a rule, in response to hundreds of complaints about surprise price rises.
The consultation was first mooted in October, and since then Ofcom has hardened its stance.
However, price rises in fixed contracts will not be banned, the regulator said.
"A complete ban on price rises in fixed contracts has also been considered," said Ofcom.
"However, Ofcom does not think this would be consistent with the European legal framework, so it is not presented as an option for consultation."
The regulator has been looking at the issue since receiving more than 1,600 complaints between September 2011 and May 2012.
Many fixed-term contracts for mobile phones, broadband and landline services have small print in their terms and conditions allowing prices to be put up, with at least 30 days' notice.
But many customers have said they were unaware of such clauses, and that the sudden imposition of price rises in the middle of a supposedly fixed-price deal was unfair.
Vodafone put up the line rental charge on its fixed contracts by £1.55 a month from November, while Orange, Three and T-Mobile have made similar changes.
As well as letting customers escape their deals, without a charge, in the event of a price rise, Ofcom also wants to make telecoms firms highlight the possibility of such price increases much more explicitly.
"This proposed change would address consumer concerns that it is unfair that providers are currently able to raise prices, while they themselves have little choice but to accept the increase or pay a penalty to exit the contract," said Ofcom.
"Under the current rules, the exception is where a provider agrees that the price increase would be likely to cause 'material detriment'."
The consultation lasts until 14 March 2013, with a decision due in June this year.