Everton Football Club losses widen as wages rise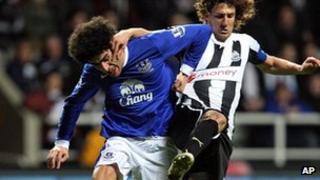 Everton Football Club has reported widening losses, due in part to higher wages and falling season ticket sales.
The club made a net loss of £9.1m in the 2011-12 season, compared with a loss of £5.4m a year earlier, with turnover down slightly at £80.5m.
But with strong season tickets sales and good results on the pitch so far this season, the club said it expected better financial results for 2012-13.
Owner Bill Kenwright also reiterated his desire to bring in new investors.
Wages were the biggest expenditure for the club last season, at 79% of turnover. It spent £63.4m on players' salaries, up from £58m a year earlier.
Net debt was steady at £46m.
"The club has demonstrated its commitment to first-team success with increased expenditure on player wages," said the club's chief executive Robert Elstone.
"We continue to try to enhance our competitive position and, at the same time, manage cost base and debt levels effectively."
'Positive and determined'
The club has been looking for fresh investment to boost spending power in the transfer market.
"My desire to find a person, or institution, with the finance to move us forward has not diminished," Mr Kenwright said.
"Despite the challenges presented by the global economic downturn, we remain positive and determined."
Everton is currently pushing for a lucrative top-four spot in the Premier League and with it a chance to play in next season's Champions League.
The team is in fifth position, two points behind Chelsea in fourth.