Avis to buy Zipcar vehicle sharing firm for $500m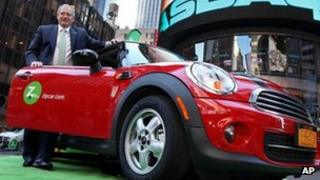 The global car hire firm Avis Budget has agreed to buy Zipcar, the world's biggest car-sharing firm, for $500m (£307m).
The car hire giant is buying into the fast-growing sharing market, which it says is worth $400m in the US.
Zipcar has 767,000 members, who pay an annual joining fee and then are charged by the hour to use its cars.
Avis is paying $12.25 per share for Zipcar, almost 50% more than the shares were trading at, at the end of 2012.
Zipcar, whose shares surged after the announcement, have three quarters of the US market.
Its most recent results showed that membership numbers had increased by almost a fifth at the end of 2012, and industry analysts suggest that rate of growth is set to continue.
When it floated on the Nasdaq exchange last year, Zipcar said it thought the US car sharing market would be worth $3.3bn by the end of the decade, up from $250m in 2009.
Similar growth rates are forecast for the European market, with analysts suggesting revenue of 2.6bn euros in 2016, up from 220m in 2009.
"We see car sharing as highly complementary to traditional car rental, with rapid growth potential and representing a scalable opportunity for us as a combined company," said Ronald Nelson, chairman and chief executive of the Avis Budget Group when he announced the Zipcar deal.
Car sharing has become popular in cities as individual cars are kept in residential streets, outside workplaces or student accommodation, and some people find using the service cheaper than owning their own car.
It cuts out servicing and maintenance costs and the cost of fuel is included in the hourly charge.
Avis Budget wants to accelerate the growth of Zipcar by putting more cars in more locations. It also plans to adopt some of Zipcar's technology across the existing group.
Car sharing clubs give members a smartcard which they use to open the car, eliminating the need to go to an office to collect and return keys.
Some of the major car rental companies. including Hertz and Enterprise, have launched their own car sharing operations in the past few years.
Zipcar was founded in 2000 in Cambridge, Massachusetts, to take the European car-sharing idea to the US.
It has grown into the world's biggest car-sharing firm, helped by recent mergers with US rival Flexcar and the purchase of UK company Streetcar and Spain's Avancar, which it bought to expand its European operations.
Avis dropped from the second to the third largest car rental firm in the US in 2010, when Hertz took over Dollar Thrifty. Avis hopes to complete the purchase of Zipcar during early 2013.