House prices in London rise by 7%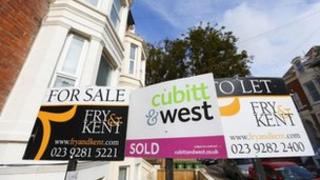 House prices in London rose by 7% in the year to the end of October, far outstripping increases elsewhere.
The figures from the Land Registry, which records property prices in England and Wales, show the average London home now costs £365,000.
Prices have risen in some other regions too, with the average national increase at 1.1% and average prices at £161,600.
But prices have fallen in the North West, North East, East Midlands and Yorkshire.
Separate figures, from the financial information service Moneyfacts, show that mortgage lenders continue to be very fussy about to whom they will lend money.
Although the number of mortgage deals on offer to the public has jumped by 8% in the past month, to 2,790, the vast majority of them - 67% - still require a deposit of at least 20% to be put down by the borrower.
About 12% of the current deals require a 10% down payment, and only 3% are available to people with a deposit of 5% or less.
In many of those deals, the lender requires an extra guarantee from the borrower's parents, and the interest rates payable by the borrower are considerably higher than for someone taking a mortgage with a larger down payment of, say, 20% or 25%.
Mark Harris, of mortgage broker SPF Private Clients, said: "Record low interest rates have resulted in some of the cheapest mortgages we have ever seen with lending volumes slowing ticking up month by month."
"However, the biggest barrier to home ownership remains the deposit as first-time buyers struggle to drum up the tens of thousands of pounds required to get on the housing ladder.
"Funding for Lending (FLS) should make this easier this year, resulting in more choice at higher loan-to-value deals and better rates," he added.
Peter Rollings, of estate agent Marsh & Parsons, said: "Recent improvements in mortgage lending, combined with rising national house prices point towards a more positive end to the year and start to 2013."
"If the cheaper funds from the FLS can find their way to first-time buyers without substantial deposits, it will go some way towards seeing transactions rebound sustainably and bridging the price growth gap between London and the rest of the country."
The Land Registry figures show some startlingly high price increases in some of the wealthier parts of London, driven by the continued influx of money being invested by foreigners seeking a safe home for their cash.
The biggest increases have been in Kensington & Chelsea (up by 16%), Westminster (15%) and Hammersmith and Fulham (10%), with Hackney, Haringey, Islington and Wandsworth all seeing rises of 9%.
The average home in the capital is now worth £365,000, ranging from £215,000 in Barking & Dagenham to £1.1m in Kensington & Chelsea.