Singapore growth beats estimates as it avoids recession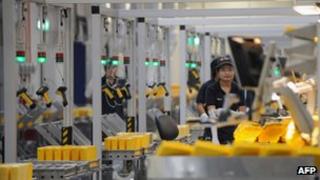 Singapore's economy has averted a technical recession, as it reported better-than-expected growth data for the fourth quarter.
The economy expanded 1.1% in the October to December period, from a year earlier, advance estimates showed.
On a quarter-on-quarter basis, the economy grew 1.8%. That is up from a 6.3% contraction in the third quarter.
Growth was boosted by a rebound in the services industries, which include retail, finance and insurance sectors.
For the full year, the government said it estimates the economy to have grown by 1.2%.
That is lower than its forecast of around 1.5% annual growth for 2012.
Manufacturing woes
The Ministry of Trade and Industry said in a statement that growth was impacted by "the weakness in the manufacturing sector".
Singapore's manufacturing sector, which has been hurt by slowing global demand, has contracted for three successive quarters.
According to the latest data, the sector shrunk 10.8% in the fourth quarter, from the previous three months.
That follows a 9.9% contraction in the third quarter.
Analysts said that given the weak global demand, the sector may continue to remain under pressure in the coming months.
"Manufacturing still looks weak as seen from the double-digit decline," said Selena Ling, head of treasury research at OCBC in Singapore.
"Near term, it's hard to see any improvement in manufacturing."
The ministry issues advance estimates based largely on data for the first two months of the quarter.