House owners raise stake in homes, Bank of England says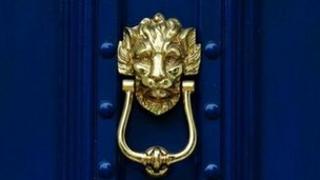 UK homeowners' collective stake in the value of their homes rose in the third three months of the year, figures show.
The equity in their homes - the proportion they own outright, compared to the proportion that is mortgaged - rose by £8bn, the Bank of England said.
This is a similar figure to the same period in 2011, but down from £9.8bn in the second quarter if 2012.
The Bank said this was a reflection of the low level of house sales since the start of the financial crisis.
'Caution'
Previously, the shift in housing equity withdrawal figures had been thought to reflect the desire of homeowners to take advantage of ultra-low mortgage rates and pay off their mortgages more quickly than before.
But the Bank has argued that there is, in fact, little evidence of homeowners doing this.
Fewer people than before are expanding their mortgage borrowing, either to buy their first homes or to buy their next home and move up the housing ladder.
Meanwhile, existing borrowers continue to pay off their mortgages steadily, the Bank said.
"While many households have no option to move or remortgage, as house price falls have left them with insufficient or zero equity, even those with sizeable chunks of equity are erring on the side of caution," said Dominic Hennessy, managing director of Just Us Mortgages.
Effect on spending
This is the 18th consecutive quarterly injection of equity into UK homes.
Previously, people had cashed in on the rising value of their homes, to buy cars or make home improvements.
"In past years, housing equity withdrawal has been used significantly to support consumer spending," said Howard Archer, chief UK economist at IHS Global Insight.
"So regardless of the causes of the switch to a net injection of housing equity since early 2008, the fact that housing equity withdrawal is no longer happening is a dampening factor on consumer spending.
"It should be noted that housing equity withdrawal has also been used for other purposes than supporting consumer spending in the past, such as reducing other debts, investing in other financial assets and topping up pensions."