Pearson invests in Nook tablet line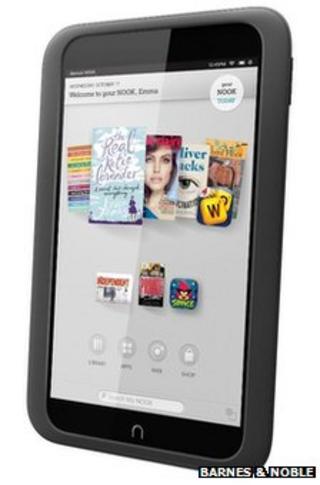 UK publisher Pearson has said it will invest in the Nook series of e-readers and tablets.
Pearson said it would pay $89.5m (£55.5m) for a 5% stake in Nook Media, which includes the digital bookstore and 674 stores serving US colleges.
The maker of Nook, US book chain Barnes & Noble (B&N), sells the devices online in the UK and in its stores as well in the US.
Microsoft is another big investor in the Nook.
After the deal, B&N will hold 78.2% of the Nook business and Microsoft will have about 16.8% , Pearson said.
It added that, subject to certain conditions, Pearson will have the option to buy another 5% stake in Nook Media.
"Pearson and Barnes & Noble have been valued partners for decades, and in recent years both have invested heavily and imaginatively to provide engaging and effective digital reading and learning experiences," said Will Ethridge, chief executive of Pearson North America.
"This new agreement extends our partnership and deepens our commitment to provide better, easier experiences for our customers."
B&N offers its own curated magazine, newspaper, book and app stores - and plans to add a video service offering movies and television shows by early 2013.
Its devices compete with tablets and e-readers from Apple, Amazon, Sony and products using Google's Android software.
B&N does not operate its own stores in the UK, but as well as online, it sells its products through Sainsbury's and the bookstore Blackwell's.