Karl Lagerfeld: The hired gun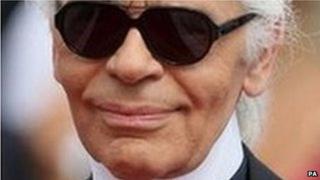 In the moody lighting of the Saatchi gallery, the fashion legend Karl Lagerfeld is a vision in grey, complete with his traditional dark glasses, white ponytail, starched collar and natty leather gloves.
He is in London to launch an exhibition of his own photos of celebrities wearing black Chanel jackets.
At the age of 79, he is still the great force behind fashion empires, as the creative director of Chanel, Fendi and his own eponymous label.
He does not, though, see himself as a businessman.
He snorts at the idea and in clear Germanic tones tells me: "I am a hired gun, even in my own business."
He hates responsibility and "likes to be free". His contacts allow him to do whatever he wants and the more he does, the better it works.
With growth slowing even in India and China, is luxury a tricky business right now? He maintains that it is the only business he knows and it is still doing very well.
"We created a product nobody needs, but people want," he argues. "If you need an ugly old car, it can wait, but if you want a new fashion item, it cannot wait."
On the go
He still has an astounding number of projects on the go, including the book called The Little Black Jacket and his online fashion house, which he says offers "less expensive clothes" than Chanel and Fendi.
Why is it exclusively on the internet? Because "it's the modern way and it is the opposite of Chanel and Fendi, so that's perfect for me to do," he says brightly.
He's a man who likes opposites in his life.
One of his rivals in the online world is Amazon, which is trying to crack the high-end fashion market. I ask him - would he sell his clothes via Amazon? A tiny pause before he replies: "Why not? If it's well done, look at Net-a-Porter!" That's the luxury website that hosts the Karl Lagerfeld brand.
His own website is not just about fashion. It includes his recommendations for books and exhibitions and quirky "Karlisms" written in block capitals such as: "I am living my memoir - I don't need to write it."
And yet - shockingly, he confesses to me that he "never looks at his website, never looks at TV, nothing".
Why not ? "I don't want to see ME, because then I will lose all kind of spontaneity."
The inspiration for all his various projects comes from "everything going on the past and the present. I'm like a building with a TV antenna," he enthuses, "I can get it all."
White cat strokes iPad
Karl Lagerfeld's fame has even rubbed off on his fluffy white cat, Choupette.
She has more than 17,000 followers on Twitter and notoriously, her own computer. "She loves her iPad," he says proudly. How does a cat use an iPad, I ask innocently? "She doesn't really use it," he concedes, "she plays with the icons."
The big question is left until last, and there's a sudden hush among the Chanel-clad PR people as I ask it. Does he ever feel like slowing down? It unleashes a torrent.
"Why should I slow down?" he demands. "What a bore! I have a very healthy life: I don't smoke, I don't eat too much, I don't drink, don't take drugs. My head is like a crystal ball and I have no need of slowing down."
And then he smiles a broad smile.
"You know some people have worked with me for 30 years and never had another job, so I can't be that horrible."
Listen to Karl Lagerfeld speaking to Lesley on Business Daily on the World Service or on Listen to the Today programme on Radio 4.