UK employment to reach 30 million, says CIPD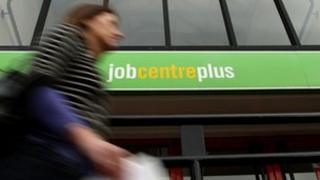 The Chartered Institute of Personnel and Development (CIPD) says employment should grow to a record high by 2015.
Its study says the number of people employed should grow throughout 2013 to reach 30 million two years later.
The CIPD says that the reasons for jobs growth throughout a period of flat economic growth remain obscure.
It says underemployment - people taking part-time jobs who would like full-time work - has not grown significantly and does not explain this jobs growth.
A report earlier this month from the independent Office for Budget Responsibility predicted that the number of people in work would be unchanged between the last quarter of this year and that of next year.
Insecurity
A separate report out on Friday, compiled by the CIPD's former chief economist, John Philpott, predicted a year of "slog" for those in work.
Dr Philpott, who heads the Jobs Economist consultancy, said workers could expect longer hours, static pay and limited jobs creation next year.
He says job insecurity will remain high and unemployment will rise to 2.63 million, because the size of the workforce will outstrip the number of jobs being created.
However, he expects the number of young people unemployed will fall below 900,000, moving away from the one million level it threatened to breach through 2012.
Dr Philpott said: "Our jobs outlook for 2013 is relatively optimistic in that we expect only a modest rise in unemployment. However, the fact that this can be considered good news merely underlines the harsh reality of current economic austerity.
"GDP may grow somewhat faster but 2013 will be another year of hard slog, with longer hours for those lucky enough to have jobs and a further squeeze on living standards for workers and the jobless alike."
'Mystifying'
Mark Beatson, chief economist at the CIPD, said the labour market was currently difficult to understand: "The jobs enigma, of strong growth in private sector employment in the absence of sustained economic growth, has been one of the most mystifying economic features of 2012, and if 2012 proved an enigma, the labour market appears equally difficult to pin down for 2013."
He added that the underemployment explanation was not adequate: "While there are undoubtedly significant numbers of people working fewer hours than they would like... the numbers have not increased significantly this year, making it a poor explanation on its own for the 2012 jobs enigma."
The most recent official employment figures showed the number of people out of work fell by 82,000 between August and October, to 2.51 million.
They also recorded a 40,000 rise in employment to 29.6 million, which was the highest figure since records began in 1971.