Toyota agrees $1bn US recall deal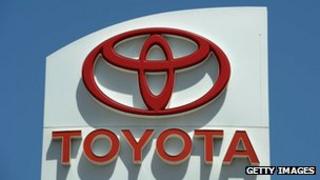 Japanese carmaker Toyota has agreed to pay an estimated $1.1bn (£680m; 830m euros) in a settlement of hundreds of lawsuits from US owners.
The deal would compensate owners for economic losses and for the cost of safety changes to their cars.
Since 2009, Toyota has recalled more than 14 million vehicles worldwide over problems with accelerator pedals becoming trapped under floor mats.
The settlement will have to be approved by a US judge.
Toyota owners argued that the company's technology rather than trapped floor mats was responsible for sudden cases of acceleration.
In a statement, Toyota US group vice president Christopher Reynolds said the settlement was "a difficult decision" because the accelerator controls had been confirmed as safe. But, he said, it was better for the company and its customers to turn the page.
US District Judge James Selna is expected to consider the deal on 28 December.
Badly tarnished
The company paid almost $50m in fines in 2010 because of the recall scandal, and the US Congress carried out a lengthy investigation.
But problems with pedals becoming trapped in floor mats have continued to dog Toyota.
Earlier this month the US National Highway Traffic Safety Administration said Toyota had agreed to pay $17m for allegedly failing to report a safety fault this year in two Lexus models "in a timely manner".
Other recalls have involved faulty window switches, fuel leaks and, most recently, steering wheels and water pumps.
The company's reputation was badly tarnished by the repeated recalls and it lost its place as the world's biggest carmaker in 2011.
However, the Japanese firm said earlier on Wednesday that it anticipated a 22% increase in group sales for 2012, reaching 9.7 million vehicles globally, and returning it to the position of biggest car manufacturer.