Toyota poised to reclaim world's biggest carmaker title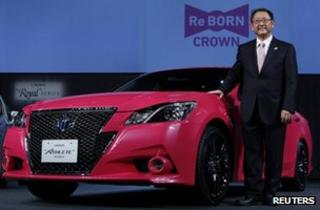 Toyota is set to reclaim the title of world's biggest carmaker in 2012, after falling into third place in 2011.
The Japanese firm said it anticipated a 22% increase in group sales for 2012, reaching 9.7 million vehicles globally.
The bulk of them - 8.68 million - come from its own-brand and Lexus vehicles.
In 2011, Toyota lost the top spot to General Motors of the US with Germany's Volkswagen coming second, after Japan's tsunami and earthquake, as well as flooding in Thailand, hit production.
Toyota had previously held the crown for the world's biggest maker and seller of cars in three consecutive years, from 2008 to 2010.
Demand for its vehicles has also been dampened by negative publicity surrounding its frequent mass recall of vehicles due to faulty parts since 2009, tarnishing the firm's reputation for reliability.
Moreover, the strengthening yen - which has gained more than a third against the dollar in the last five years - has undermined Toyota's cost competitiveness.
Despite all this, the firm said it expected group sales to rise a further 2% in 2013, with most of the increase coming from its Hino truck-making subsidiary.
Its growth will rely on rising international demand, as the firm expects car sales in its home market to drop sharply next year following the expiry last September of a government subsidy for low-emission car sales.