Will the fiscal cliff send US small businesses over the edge?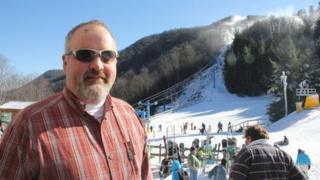 Chris Bates has one eye on the weather, and the other on Washington.
The general manager of the Cataloochee Ski Area in western North Carolina is wary of the so-called fiscal cliff - or fiscal slope, as some analysts call it.
He worries he won't be able to carry out improvements on his slopes if lawmakers can't agree on a deal by the end of the year. Hundreds of billions of dollars in tax rises and spending cuts are set to take effect on 1 January 2013.
"I had about a $600,000 capital budget planned for next year," he says. "So I think that a lot of that would go away if this is allowed to happen."
Mr Bates would like to cut a new ski trail, invest in a new grooming tractor and boost his snow-making capabilities.
'Already fragile'
Under his office window, snowmakers blast fresh powder onto a slope filled with skiers as Mr Bates mulls over his project plans: "I don't understand how Washington operates."
This Smoky Mountain retreat relies on tourist traffic. The Cataloochee Ski Area gets more than 120,000 visitors each season.
While Mr Bates says they get some international visitors, about 40% come from Atlanta, Georgia, which is about 175 miles (280km) away. For Americans, the uncertainty that comes along with the fiscal cliff could threaten plans for leisure activities, like skiing.
"I also think that it's going to scare a lot of consumers," Mr Bates says. "And I think that the unknown and the fear is going to affect spending patterns of consumers, which is going to hurt our economy - which is already very fragile right now."
The 300 employees working at Cataloochee could see at least a 2% increase in their taxes next year, like the rest of the country. A payroll tax holiday is set to expire on 1 January, along with an array of George W Bush-era tax cuts.
That means income, capital gains and other tax rates could skyrocket for many Americans. At the same time, the country could see sweeping cuts to defence, education, and healthcare spending. Experts suggest that the sudden onset of these measures could push the US back into a recession.
Despite the maelstrom of media reports about the impending fiscal cliff, many small business operators are unsure what the spending cuts and tax increases will mean for them.
Some believe that Congress and President Obama will reach a deal before the end-of-the-year deadline. Others are optimistic that their small business can survive a shock.
Hats, moccasins and fudge
About 35 miles (55km) away from Cataloochee, the Early Girl Eatery is serving up a busy Sunday brunch.
The restaurant's hostess in Asheville, North Carolina tells patrons the wait for a table is 45 minutes - and no-one seems to mind. The restaurant serves locally-raised southern food, such as trout and barbecued pork.
Manager Georgia Smith says she is not too worried about talk of the fiscal cliff. She is confident that a combination of tourist traffic and loyal customers would see the Early Girl Eatery through any drastic financial changes.
"We have a lot of really steady regulars," she says.
Talking over the din of the dining room on Sunday at midday, she says that she expects about 500 people to eat there that day.
In the restaurant's 11 years, traffic has been steady, she says - despite big swings in the country's fortunes: "There has been a lot of change over the past 10 years to a lot of people's livelihoods," she says. "I don't feel super worried."
Asheville attracts an affluent tourist crowd, Ms Smith says, who visit the city for the art galleries, the restaurants, and the mountain views. That confidence has many outside Washington looking with optimism towards 2013 - even though lawmakers have yet to strike a deal to avert a potential crisis.
Sue Pendley has run the Maggie Mountaineer Crafts gift shop in Maggie Valley, North Carolina for the past 38 years. From hats to moccasins, she says she sells "everything"; her most popular item is fudge.
Ms Pendley is not too concerned about the fiscal cliff, in part because she does not know exactly what it involves.
Standing over her fudge counter, she says: "I don't think anybody really knows how it's going to impact any type of business or person or anything yet till they decide what they're going to do."
Ms Pendley employs fewer than 20 people, including her son. So far, she says, this year is shaping up to be better than the last.