Italy faces stark choices ahead of election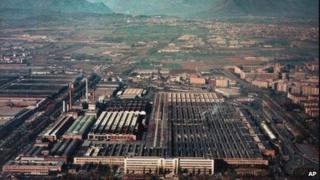 Italy is in recession, has a debt burden in Europe second only to Greece, and austerity measures imposed by an emergency government of technocrats are deeply unpopular.
But if Italians choose to reject austerity in the February elections, the decision could lead to another crisis for the country in the financial markets, and even threaten its future as a member of the eurozone.
In an effort to cut Italy's public debts of more that 1.9tn euros ($2.5tn; £1.6tn), taxes have risen, tens of thousands of public sector jobs are to be cut and welfare spending has been squeezed.
The austerity measures are affecting the entire country.
At the heart of Italy's industrial region, Turin is symbolic of the difficulties facing the north. The city is home to the historic manufacturing headquarters of Fiat, but the auto industry is in decline. Some manufacturers have lowered their costs by moving factories to other parts of Europe.
Turin's uncertain economic future is causing disillusion among young people.
"There are no jobs," says Elisabetta Cimolini, a young graduate and tour guide. "Maybe you can find a job for three months. After three months you have to see if your boss is willing to give you another three months."
A homeless shelter in the north-east of the city centre, run by the voluntary group Opera Vincenzia. Domenico Batalia, 49, comes for some shoes to replace the battered pair he is wearing.
Mr Batalia had been a hotel porter, but has been unemployed for two years.
"The situation here in Italy is very bad," he says. "It's very difficult to find another job because of my age. In hotels they just take young people to pay more cheaply. I don't have a chance."
In a chocolate factory an hour's drive south-west of Turin, Vincenzo Montuori oversees the production of Gianduja, a famous type of hazelnut praline.
It is a difficult time for his business. The Italian market has declined dramatically because people do not have money to spend.
But Mr Montuori believes austerity is the right course for Italy and he is optimistic about the future.
"Exports must be an engine on which to restart our business," he says.
"Italians are fantastic people and we have tremendous things that are distinctive. Creativity is one of the best things we have in Italy."
Shame and crime
Southern Italy has always lagged far behind the north in terms of development, and austerity is intensifying the problems in Naples, some 190 kilometres (118 miles) south of Rome.
Already one of the poorest cities in Europe, almost a million people live packed into the city's narrow streets. It feels like a different country.
The Italian government needs to get more people to pay their taxes, but, as the economic situation worsens, that is proving harder as more people resort to the black market for cash-in-hand jobs.
It is estimated that tax evasion costs the Italian state more than 200bn euro a year, and the problem for the government is that many people see tax evasion as an unavoidable fact of life.
"Tax evasion helps the owners of small bars or stores to keep going," says one resident. "If they declared everything, it would become a problem for them."
This insecurity - not knowing whether his job is safe - means he is considering evading tax for the first time in his life.
"Either I pay taxes or I feed my family, and clearly that is not a choice," he says.
"I feel very upset, I'm full of shame, but there is no other way."
Mafia survival
Austerity is also providing fertile ground for the growth of organised crime.
The Neopolitan mafia is known as the Camorra and, according to Marco Pagano, an economist at Naples University, their activities act as a tax and has a huge drag on the economy.
"Protection money having to be paid by shopkeepers or manufacturing firms to the local crime organisation has a discouraging effect on entrepreneurship and job creation," he explains.
The financial crisis is making the problem of organised crime worse.
Italian banks are suffering and are less willing to lend, making it harder for ordinary businesses to borrow money.
Often only the mafia have enough cash to lend to companies in trouble and Nino Daniele, who runs an anti-mafia campaign group in Naples, says the situation is explosive.
"More people every day must ask the mafia for money," he says. "Business people use mafia money just to survive."
New faces emerging
A lot of the blame for the state Italy is in is directed at the political class, although some new political faces have recently emerged promising change.
Most striking is the Cinque Stelle, or 5-Star, movement, organised by satirist and comedian Beppe Grillo.
His party has become a magnet for voters disillusioned and angry about the recession and has already scored important successes in regional elections.
While they are unlikely to win the general election, Movimento Cinque Stelle could still have a big influence on future government policy.
"The old parties are finished," says Mr Grillo, "Citizens need to become the institutions, then it will be a movement of citizens."
Wherever you go in Italy, there is real uncertainty about the future and especially the general election.
In the north they have confidence that through creativity and innovation Italy can recover. In the south optimism is in short supply and austerity is making Italy's traditional problems even more of a challenge for the authorities.
If the financial markets do not like the results of the election and politicians put the brakes on economic reform, Italy could take centre stage in the drama of Europe's debt crisis.