BAE Systems wins £2.5bn Oman Hawk and Typhoon contract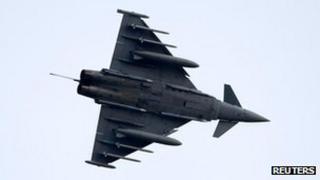 UK aerospace company BAE Systems has won a £2.5bn aircraft contract with the Sultanate of Oman.
BAE will provide 12 Typhoon fighter jets and eight Hawk Advanced Jet Trainer aircraft.
The contract will cover the supply of the aircraft and in-service support for them and is the latest in a long line of contracts to supply Oman.
The news comes two days after BAE announced a delay to its deal to supply Saudi Arabia with 72 Typhoon fighters.
The group said the hold-up was due to disagreements over the final contract price. BAE has supplied 24 jets to the kingdom so far.
BAE said the delay could reduce its full-year underlying earnings-per-share by approximately three pence.
Jobs protected
Prime Minister David Cameron, who is due to visit Oman on Saturday, welcomed the deal with the Middle Eastern state.
"It's testament to Britain's leading aerospace industry and the deal will safeguard thousands of jobs across the UK, not just at the BAE Systems factories in Lancashire and East Riding in Yorkshire, but at many more small businesses up and down the country that play a vital role in delivering these aircraft", he said.
BAE said in statement: "This contract is further recognition that both Typhoon and Hawk are leading aircraft in their class."
The contract should help protect 6,000 high-technology and engineering jobs across sites at Warton and Samlesbury in Lancashire, and at Brough in East Yorkshire.
Manufacturing will begin in 2014 with delivery expected in 2017.
BAE has been under pressure to develop an alternative growth strategy following the collapse of its planned merger with European defence company EADS earlier this year,
In the US, where BAE derives 40% of its revenues, the defence budget is being cut by up to $600bn (£369bn) over the next decade.