Cathay Pacific averts cabin crew industrial action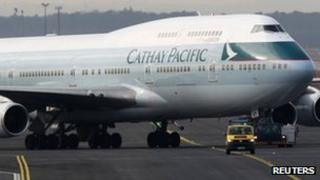 Cathay Pacific Airways customers will be greeted with a smile after all, following the end of a labour dispute.
Cabin crew in Hong Kong had threatened industrial action that included withholding food, alcohol and even smiles from passengers.
The dispute was over pay and working conditions.
The settlement means the airline has averted what could have been a chaotic holiday season with hundreds of scheduled flights disrupted.
'Concerns resolved'
Last week at a union meeting cabin crew voted in favour of a work-to-rule, which could have delayed flights.
Working to rule means the employees do no more than the minimum work required in their contracts.
The Cathay Pacific Airways Flight Attendants union, which represents about two-thirds of all cabin crew, was asking for a 5% pay raise from next year.
The airline, which is struggling with losses, did not move on its offer of a 2% raise, however it did agree to longer rest time on certain flight patterns.
The union said that its concerns had been resolved.
Foreign workers
Cathay Pacific, which is Asia's largest carrier, has also agreed to keep crew based outside Hong Kong to a maximum of 15% of total cabin crew staff for the next two years.
The union had said employees were worried about jobs potentially going overseas.
Cathay has also had to cut long-haul flights recently due to slowing demand and the airline's attempts to cuts costs has reduced pay for some employees.
Chief executive John Slosar called the deal "the best possible outcome".