Home rental costs record rare dip, says LSL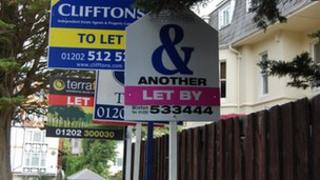 The cost of renting a home has fallen for the first time since March, dropping by 0.4% in November, a survey says.
However, rents remained 3.4% higher than the same month in 2011, according to LSL Property Services, which owns Your Move and Reeds Rains.
The average cost of renting a home in England and Wales was £741 a month.
The largest month-on-month drop in rental costs was in the south east of England, the survey found.
The region saw a 1.9% drop. There were also falls in the north west of England (down 1.1%) and in the West Midlands (down 1%) compared with October.
'Not enough homes'
The drop across England and Wales returned prices to the same level as they were in September.
The fall would have been greater, but for rental rises in London and Wales, as well as Yorkshire and the Humber.
"Landlords look to avoid having properties empty over the Christmas period, and are often more flexible on pricing at this point in the year," said David Newnes, director of LSL.
"But the rental market has not ground to a halt by any means. The housing market is still haunted by the demons of undersupply of new homes and tight credit conditions for buyers with the smallest deposits, which is pushing up tenant demand."
Sales increase
First-time buyers still require a large deposit to get on the housing ladder.
However, there has been a pick up in house sales recently, with the latest figures from HM Revenue and Customs showing that completed sales in the UK in November were at their highest monthly level for three years.
The provisional figures show there were 91,000 sales during November - up 10,000 on the same month last year, but still well down on the levels seen during the property boom.
The LSL figures showed that the total amount of late or unpaid rent fell to its lowest level since June 2010, equating to 7.4% of all rent across England and Wales.
"A drastic improvement in the jobs market in recent months has made a real difference to tenant arrears," Mr Newnes said.