Retirement: Doom and gloom or golden opportunity?
By James Melik
Reporter, Business Daily, BBC World Service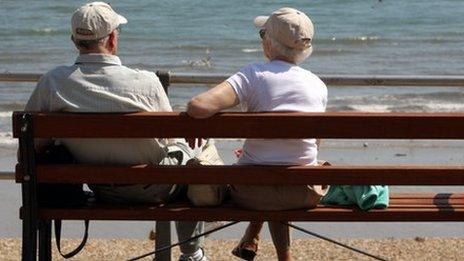 As savings and retirement investments shrink in value, some people face the prospect of having to work until they are 70.
Retirement is a very daunting proposition for some people, whilst others welcome the opportunity to have more time to follow their interests.
There is an argument that it is actually better for us to keep working later in life - better for our health, our motivation and our intelligence.
However, in many places, it is far harder for people in their 50s and 60s to find work than for their younger counterparts.
In Western countries, many employers say that older workers simply cost too much, so early retirement is often seen as a quick way for them to cut the workforce.
Figures released by the the Organisation for Economic Co-operation and Development (OECD) suggest that the Nordic countries offer older workers the best opportunities.
"You have a very nice working environment and it is possible for you to work less," says Anne Sonnet from the OECD's Employment division, noting that part-time workers are motivated and highly rewarded by their bosses.
But in other countries such as Belgium and France, and also many Eastern European countries, it is often completely the opposite.
Ms Sonnet describes it as a vicious circle.
"It's very difficult to continue to work when you are 60 and employers often prefer to hire younger workers," she says.
"There is some kind of disguised discrimination when you are older and it is very difficult to be hired and to have some kind of job mobility."
It can be particularly troublesome when a person has to wait many years before they are able to get a pension.
With the crisis of youth unemployment in the world, there is also the argument that more older people in work means there are fewer jobs for young people.
Ms Sonnet maintains that when a firm retains older workers, they also retain their experience, and that their positions do not prevent younger people working because it is generally not the same job.
"Governments need to have sustainable employability measures to help older workers to be employable, and also to continue to train people when they are over 50 years old," she asserts.
"Very often employers think that they are not going to invest in training for older workers because they are going to retire."
For whatever reason, some people in their 50s or 60s do end up without a job.
If they need the money they have to hunt for new work, but if they are financially stable, how do they fill all those empty hours?
Laurie Lawson, an American retirement coach, says there are three different types of people who approach her.
"One is the person who has not planned for their retirement and then suddenly they realise they have all this free time and have no idea what to do with it," she says.
"There is another type who had no intention of retiring, but, based on the economic turndown since 2008, companies are downsizing and people have been laid off and they have been offered retirement packages.
"Then there is someone who did plan for their retirement and they are loving it, but they want to do something very useful with their time."
She says retirement coaching helps all those people redefine themselves and to discover how to reach their goals, although it is not so straightforward for people in their 60s or 70s who might be fairly set in their ways.
"The first thing I try to do is find out why they are there, and why now? And then we have to reframe the whole retirement idea," she says.
"For people, most of the time retirement means 'okay, my job is over and I'm going to go travel', and after you get off your cruise, then it's like, 'okay, now what am I going to do?'"
Seeking advice does not come cheap. Ms Lawson charges $125 an hour.
"I usually go an hour a week and the optimal period for coaching is about three months, because that gives you time to discover things, to revise a plan if, for example, they always wanted to be a zoo keeper, but then realise they have allergies."
Furthermore, people from different ethnic backgrounds have completely different ideas about what age really means.
"I have done a few workshops in Italy and India, two very different cultures, but there is a universal need, I'm not sure we can just apply it to people who have retired, but there is a universal need to be needed, to feel like you are serving a purpose.
"In some countries age, is revered, whereas in the US we don't want to get old," she muses.
Her advice to people about to retire, is to think of it as the most exciting opportunity that they are probably ever going to get.
"You are getting ready to become your own boss of your life. You can decide what you do and when you do it," she says.
"These are the golden years. Treat yourself nicely, do what you've always wanted to do, and consider it an adventure. And be brave.
"You have survived all these years, so step out there and do something where you don't know what the outcome is.
"And assume that because you've survived this long, you'll know how to handle it, whatever comes about."
Related Internet Links
The BBC is not responsible for the content of external sites.