Bank of Japan boosts stimulus to help revive growth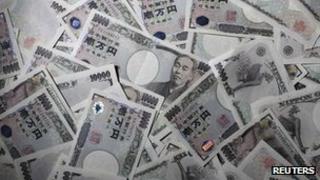 The Bank of Japan (BOJ) has boosted its key stimulus measure in an attempt to revive growth in the world's third-largest economy.
It has extended its asset purchase programme, aimed at keeping borrowing costs down, by 10 trillion yen ($119bn; £73bn).
The central bank also left interest rates unchanged between zero and 0.1%.
The BOJ has been facing increasing pressure to take steps to help revive the Japanese economy.
Japan has been battling years of sluggish growth.
However, some analysts said the size of the latest stimulus boost was not enough to make a big impact on the economy.
"This is a disappointing decision given the level of expectations," said Robert Rennie, chief currency strategist at Westpac.
Mr Rennie added that markets were expecting the central bank to announce a much bigger expansion of the programme as well as raising its inflation target.
Stoking inflation
Japan has been fighting deflation or falling prices for many years. It has been a big hurdle in policymakers' attempts to boost domestic demand as consumers tend to put off purchases in the hope of a better deal later on.
The BOJ has previously set an inflation target of 1%.
There have been calls for it to raise that target, not least from Shinzo Abe, the man set to be the country's next prime minister.
However, the central bank left the target unchanged, saying that it will review it during its next meeting in January.
Some analysts said that while the bank was likely to review the target, it may not alter it drastically.
"The BOJ will come up with something that's just enough to avoid criticism from Abe but probably not enough to avoid some sense of disappointment," said Masamichi Adachi, senior economist at JP Morgan Securities in Tokyo.
Mr Adachi said he was also sceptical that revising the target would have any significant impact on the economy.
"If you say 'reach 2% inflation at a certain date in the future,' the economy just isn't going to behave that way."