Mitsubishi Motors shares fall on recall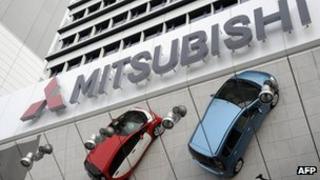 Shares of Mitsubishi Motors have fallen after the firm announced that it would recall 1.2 million cars in Japan to fix faulty oil seals.
The recall is likely to cost the company 7.5bn yen ($89m; £54m).
The carmaker, which has recalled 1.76 million vehicles due to the same problem since 2010, also received a warning from the government about the way it has handled the issue.
Its shares dipped 5.5% to 86 yen in Tokyo.
Mitsubishi said in a statement that the cost of the recall had not been reflected in its latest forecasts.
'Inappropriate explanation'
The firm said that the faulty seals could slip off and trigger an engine oil leak, which in a worst case scenario could cause the engine to stop.
This is the fourth time Mitsubishi has recalled cars to fix problematic seals, prompting a stern warning from the authorities.
The transport ministry said in a statement that it had "warned the company on having been passive in its handling of the recalls".
It added that it had also pulled up the firm "for having made inappropriate decisions, for providing the ministry with inappropriate explanation, for being insufficient in clarifying the causes of the recall".
The ministry said it would conduct on-site inspections and ordered the automaker to report on improvement measures it has taken by March.
Mitsubishi said it had not been told about any accidents being caused by the faulty seals.