Technology teaser: Who will call it right in 2013?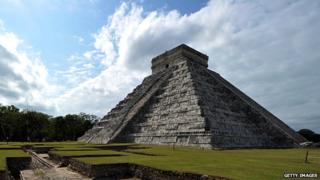 A new year is ahead of us.
The world didn't end, the turkey has reached the dubious curry stage of its lifecycle, and the the tree has dropped needles all over the shag pile.
This can mean only one thing.
It is time for part one of the traditional Technology of Business lookahead to what 2013 holds.
So select the device of your choice and settle down to find out what our experts have to say.
Robert Scoble, blogger and start-up liaison officer, Rackspace
A contextual future will arrive in 2013
If you are skiing this winter you might see the Oakley Airwave ski goggles.
These goggles have a heads-up display in them, which shows your friends on the mountain how many vertical feet you've done and even the hang time of your latest jump.
That's not all they could do in the future, though. Oakley's product designers tell me they see a new contextual future for products such as the AirWave.
What's context? It is where data from sensors, social networks, and location services mix together to bring highly personalised services and products and tons of new business capabilities.
2012 brought the first rumblings of a contextual future as products such as Google Now, Maluuba, Cue and Placeme arrived.
In 2013 Google's first wearable computers, called Project Glass, will arrive and with them a range of new capabilities. You will control a user interface by turning your head or nodding slightly.
What will this contextual future do? It will help you live your life. Google Now, for instance, tells you to leave for appointments and keeps track of traffic conditions.
A new toy, from a startup named ToyTalk, which just got $16m (£10m) in venture funding, will behave differently on rainy days than sunny ones.
Apps such as Highlight will do new and interesting things as you walk towards users who also have Highlight running on their smartphones.
All of these new apps will be hooked into huge databases in the cloud.
This contextual age will rely on interconnecting these services into cloud-based databases. Open systems will be more interesting in 2013 because contextual services and products will demand openness.
Android phones, for example, already have more and better contextual apps because developers can do more on the Android OS than they can on Apple's OS.
What will these new open cloud and contextual services be good for? Ask Jeff Holove, chief executive of Basis.
Next year, his startup will ship a new kind of watch: one that knows your activity and health signs like your heartbeat.
"You will understand yourself at a level that you didn't before," he told me, while showing me the new watch.
It won't be just you that will know yourself better. A whole range of services and products, from ski goggles, to health monitors, to social networks, will know you better.
The age of context is coming.
Dave Coplin, chief envisioning officer at Microsoft UK
The main thrust of 2013 is going to be all about the second generation of consumerisation and within that, three key themes: mobile, data and trust, that will completely change how people think about and use technology in the workplace.
Where the first generation of consumerisation was all about how we use consumer devices at work, the second generation will be about services, specifically how we use the consumer services (and the functional principles that make them successful) within our organisations.
The key point here is that this is not just about using these services inside the firewall, but is instead about how we use them to fundamentally change the business processes we have relied on for tens if not hundreds of years.
Within that broad spectrum, three key areas will emerge as being absolutely pivotal to success:
Mobile - we need to understand that mobile devices offer people a fundamentally different relationship with technology, one that is both personal and pervasive and increasingly our first point of contact for anything we do both inside and outside of work
Data - this may feel like a cliche, but more and more, data is going to become the lifeblood of all our activities, providing insight and innovation that will enable us to transform the way we do business, among many other things
Trust - One of the final refuges of humanity will make it to our digital existence. Employees, employers, brands, advertisers and consumers will increasingly understand its importance in engaging customers and employees when delivering services.
International lawyers at Taylor Wessing
4G could force mobile operators to notify copyright infringers in the same way as the largest fixed line operators will have to.
The Federation Against Software Theft issued a press release on 8 October 2012, which claimed that the launch of 4G networks justifies extending the legal obligations that will be placed on the largest internet service providers (as per the Digital Economy Act 2010) so they also cover the operators of mobile networks.
These legal obligations aim to discourage unlawful downloading and sharing of content such as music and films.
This issue could be intensified given that BitTorrent mobile apps are available and BitTorrent services are often used to download unlawful content on computers.
Augmented reality could be the next battle ground in the privacy debate.
Augmented reality is the superimposition of computer-generated sensory input such as sound, video, graphics or GPS data onto a real-world environment.
Google's Project Glass is one of several projects working on augmented reality headsets.
It is expected to release its code to developers of mobile apps sometime in 2013. If smartphone apps have proved a data protection challenge, the challenges of augmented reality will be far more problematic.
It remains to be seen whether the proposed EU data protection legislation will be able to keep up with this new technology.
Neil Hawley, associate, Taylor Wessing
Legal actions being brought against individuals publishing their views on Twitter will undoubtedly increase.
The action Lord McAlpine is taking against Twitter users highlights this trend. It is important to consider the legal position of individuals who tweet and retweet.
Niri Shan and Adam Rendle, media lawyers at Taylor Wessing
Fred Huet, managing director, Greenwich Consulting
With mobile traffic expected to increase 100-fold between now and 2020, 4G could prove to be a game changer in mobile payments.
In 2013 we expect to see the infrastructure becoming widely that will make paying via mobile devices an everyday normality.
To encourage widespread adoption, expect to see the introduction of rewards points, loyalty schemes and social games.
There are rumours that Amazon is in the process of manufacturing its own smartphone, giving the shopping giant a prime opportunity to enter the market.
In 2013, the interface of the TV as we know it will continue to adapt to customer demand, and platforms built around increased convenience, wider choice and enhanced control will continue to bear fruit.
With smartphones growing ever smarter, larger and more powerful, will 2013 see the rise of the superphone?
While flexible bendy-phone technology is not yet thought to be ready for mass production, technologies like this, in addition to haptic feedback screens (which communicate using the sense of touch) dual displayed devices such as the new YotaPhone archetype and augmented reality are truly on the radar.
Apple's collaboration with fingerprint security startup Microlatch could also produce the next iPhone "wow" moment, allowing the technology giant to develop fingerprint technology for use in NFC (near-field communication) applications - another potential game changer in mobile payments.
James Petter, vice president, EMC
All the signs point towards 2013 being a defining year in this information age.
I expect to see organisations being more ambitious and adventurous in how they tackle the way information is managed and exploited in business.
Currently, business decisions are based on just a fraction of the available, relevant data.
A recent IDC/EMC report, which examined the digital universe, defined as all of the digital data created, replicated and consumed each year worldwide, estimates that just 0.5% of it is being analysed.
The report also forecasts that the digital universe will double every two years between now and 2020.
The ability to navigate that universe will create the next generation of business winners and losers.
Over the next 12 months we can expect the conversation about how to address the technology skills gap to be taken more seriously, and we will continue to witness the rise of the data scientist.
Company bosses around the world will need to take charge and give serious consideration to the potential of a big data programme, shifting the mindset from that of retrospective analysis and forecasting to one of real-time, forward-looking intelligence.
In 2013, fortune will favour the bold, the brave, and those with the smartest data-driven insights.
Mark Cook, chief executive, Getronics UK & Ireland
The function of IT within businesses will move from managing hardware to focusing on information and innovation.
New working practices will lead more businesses to move to the cloud so that they can centralise systems, processes and applications.
This will free up IT staff from the help desk, updating software and fixing technical issues, to focus instead on strategy.
As a result, business unit managers will have control over the technology services they consume.
They will be able to choose the cloud services they want, meaning more direction from chief information officers (CIOs) will be needed to stop costs spiralling.
The trend towards flexible working continues to grow, although we're seeing many organisations moving away from bring your own device (BYOD) strategies, and instead choosing the more cautious approach of choose your own device (CYOD).
Flexible working is increasingly at odds with legal requirements around security and data protection. We'll see a big increase in software designed to make mobile devices secure.
Part two of our lookahead will be published on Tuesday 8 January, 2013.