Viewpoint: On the logistics frontline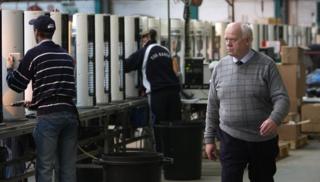 Andrew Jordan is the logistics manager at Ebac, a company based at Newton Aycliffe in County Durham, in the north-east of England, that manufactures dehumidifiers, water coolers and heat pumps.
As part of Technology of business's series on logistics, he spoke to the BBC's Fiona Graham about the impact technology has had for those working on its frontlines.
I've been with Ebac 28 years, having worked up from the shop floor, and for the last seven years I've been the logistics manager here.
Our customers vary from people buying for their homes to a lot of non-governmental organisations (NGOs). In the UK, Argos is probably our biggest customer.
I normally arrive at work somewhere in the region of 7.30am.
First we deal with orders from customers, whether it is business-to-business or business-to-consumer orders.
We use handheld scanners to move and ship everything out with barcodes on. So we cannot ship the wrong item, the barcode will tell you if it is a wrong item.
This has come a long way over the last few years.
We used to write and manually ship some of the products, but over the last few years, the technology that we have on our scanners has massively increased and it makes it a whole lot easier.
We used to have around five or six guys shipping goods out from the warehouse. We've now got that down to probably two guys.
Automatic
With the technology that we have, everything can be done with a press of a button.
Whatever orders come through in the morning, we then process that again at about 12 o'clock - all parcels are shipped for next day delivery whether to a business or whether it is a consumer at the other end.
We are able to then run reports to say, right, stock has gone down by 200 of this part number, or 100 of this part number. That is a whole lot easier than it used to be. It used to be time consuming, it used to be manual, and it is now all automatic - it takes about 10 minutes to do now.
When it comes to production, any material that comes in, as soon as it is made or arrives, is verified or checked in-house.
It gets labelled with the part number and the quantity, and is scanned away into the right location.
When we're going into a build of dehumidifiers or water coolers, we then run a picking list to say, right, we are building 1,000 water coolers and this is all of the parts that we need for this product to be made.
This bill-of-materials is integrated into a sheet that I run and it comes out and it says, right, these are all of the parts, are there any shortages that we think we have?
Immense
Yes, this technology means the headcount has gone down - but the performance and efficiency has gone up. It is a whole lot easier compared to what it used to be.
It used to be labour intensive and mistakes could be made.
Now with the scanners you cannot scan the wrong product and send it out. And you can't do that for a picking list either. It has to be that product. On the technology side, it's immense compared to what it used to be.
It has made all our lives a lot easier. We don't have to check what you pick or what you get out. There is a list there with the location and the item. If there are any queries or any issues, they are passed back and it gets followed up.
The next thing we're looking to improve is providing time-slot delivery, rather than next day where the customer has to wait in all day.
Invariably what happens then is you get customers that say: "I know I am getting my parcel on the 21st of December, but when am I going to get it?"
Looking further into the future I would think the technology will be different again in 10 years.
I mean, just look at the internet over the last ten or fifteen years, it has dramatically changed.
You can do almost anything nowadays on the internet, whether it be downloading a file, or if something does go wrong with the dehumidifier that we sent out, you can even go to our website and try and solve it without having to ring customer service.
My life now is a lot easier than it was six or seven years ago.