Odeon chief on Skyfall, The Hobbit and the threat of Strictly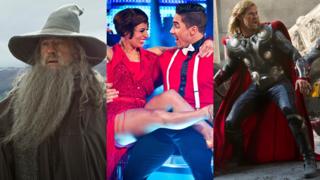 The boss of Europe's biggest cinema chain sums up 2012 as "an odd year".
You might expect Rupert Gavin, chief executive of Odeon and UCI Cinema Group, to be worried about DVDs or the growth of online streaming services.
But he believes the reaction to the Olympics suggests where the firm's real competition lies.
Amid the success of Avengers Assemble and Skyfall, he says cinema is battling "big events", not home entertainment.
"I'm far more worried about the final of Strictly Come Dancing, the Olympics, football," he tells the BBC.
"Cheaper DVDs or Netflix is a different market to us."
His group is the largest in the world outside the US, with 232 cinemas and 2,135 screens.
He acknowledges that the success of the Olympics led to the market being down 7% for the third quarter, but a Skyfall-fuelled end to the year has created an unexpected turnaround. The full-year expected to be flat or even up 2%.
"If there is something particularly large happening, people are distracted," he explains.
"A lot of people put the question to me; is cinema going to be made redundant by DVDs and downloads? My answer is absolutely not.
"I'm far more worried about the final of Strictly Come Dancing which is an appointment-to-watch.
"Staying at home is an entirely different thing. You've got nothing else on so what shall I do? I'll watch something on Netflix."
Bond
Before the Olympics defined the summer for many Britons, cinemagoers gave the industry a boost with the success of Avengers Assemble, which the Odeon chief says "surprised everybody".
But it took a home-grown hero to turn UK cinema's year around.
Mr Gavin says while he expected the third Daniel Craig Bond outing to be a success, he is still taken aback by the extent of its popularity.
It has already beaten the previous UK box office record holder Avatar, which took £94m. Mr Gavin believes Skyfall will surpass £100m.
He describes the initial interest in Peter Jackson's The Hobbit as "pretty strong", as film fans get their first taste of a 48 frames-per-second movie.
While there's an element of predictability about the success of a Bond, or a return to Middle Earth, there was still room for a few cinematic surprises, not least Ben Affleck's Argo.
On paper a film set in 1979 detailing efforts to rescue US diplomats in Iran may not seem obvious box office gold, but Mr Gavin says a mix of great writing, quality acting and high tension has seen the film perform remarkably well.
Revenues
For him, Hollywood marketing budgets can work to an extent, but a film which lacks quality will be found out quickly. But the flip side of film fans' increasing willingness to offer their own instantaneous reviews online can lead to some unexpected hits.
"One film that really surprised us was Best Exotic Marigold Hotel. It did £20m at the box office," he says.
"That film found its audience, that audience talked to each other. It really produced a warm, feel good environment and as a result it did probably double what anyone in the industry was thinking.
"In this time of economic austerity I promise you the happy ending is working harder and harder than ever before."
In 2010 he estimated that by 2013 50% of Odeon's revenues would come from 3D - a prediction he now describes as "a slightly aggressive assumption".
3D now forms around 25% of the company's box office, and it remains to be seen whether innovations such as The Hobbit's use of a higher frame rate will offer film fans more of an incentive to leave their front rooms.
He believes a change may still come, but there was an assumption that 3D would become more of the norm - but that no amount of technical innovation will sell a 3D version if the film is not good enough.
He said: "We're still seeing a very, very good uptake for 3D in adult big epic films. So last weekend The Hobbit did over 60% of its box office in 3D.
"For family films the penetration has dropped to around 35%, 40%, so you're seeing a shift."