Bank of England says economy may contract in fourth quarter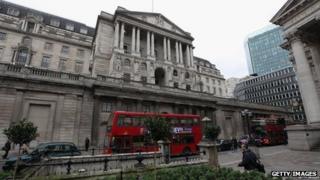 The Bank of England's Monetary Policy Committee (MPC) says the economy is "quite likely" to have contracted in the final quarter of the year.
Minutes from its December meeting said the strong boost to third quarter gross domestic product (GDP) from temporary factors would "dissipate".
Another drag on activity would come from the unwinding of the positive contribution from the Olympic Games.
It says this would "probably" result in a fall in fourth quarter GDP.
The MPC said recent business surveys and data suggested that underlying output would remain "broadly flat" in the near term.
It also said inflation, which it is charged with keeping at 2%, would remain above that target for the next year or so, in part because of the continuing impact of the rise in tuition fees and higher fuel prices.
The committee remains split over whether to do more to stimulate the economy.
For a second month, one MPC member, David Miles, voted for a £25bn increase in the Bank's £375bn quantitative easing programme.
The committee voted unanimously to leave interest rates on hold at 0.5%,
Inflation risks
The Bank faces a tricky dilemma as to whether to provide a further boost to the economy.
On the one hand, inflation continues to remain stubbornly high due to a string of supposedly one-off factors, while on the other, the UK is at risk of dipping back into recession for a third time.
The consumer prices index registered a 2.7% increase from a year earlier in October, catching the committee by surprise.
The rate was up from 2.2% the month before, and well above the Bank's 2% target. Data for November, released since the meeting took place, showed inflation holding steady at 2.7%.
City analysts agree that inflation may creep even higher next year as the tuition fee and fuel price increases continue to filter through.
"There was little that monetary policy could do to influence these prices directly," the committee added, implying that the Bank would not take any actions, such as raising interest rates, to head off the spike in inflation.
The Bank also pointed to the substantial risk to its forecast posed by "adverse weather disrupting planting in some crop-producing regions".
Some analysts have warned that global warming is leading to a steady increase in droughts and flooding. Food prices have risen this year in part due to droughts in the US and Russia, poor monsoon rain in India, and flooding in the UK.
Interest rates have been held by the Bank at a record low of 0.5% since March 2009, since when the Bank has resorted to QE - buying up government debt with newly-created money - to stimulate the economy.
There has been no increase in the QE programme since July.