Storm Sandy to cost Lloyd's of London up to $2.5bn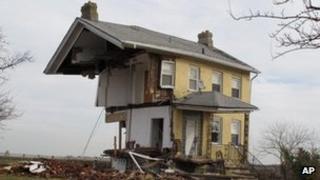 Insurance market Lloyd's of London has said that it expects to face claims of between $2bn and $2.5bn (£1.2bn-£1.5bn) for the damage caused by Storm Sandy.
Lloyd's said that its estimate was consistent with predicted industry losses of between $20bn and $25bn.
Storm Sandy killed 132 people when it hit the north-east of the US on 29 October this year.
It is expected to be the second costliest storm for the insurance sector after Hurricane Katrina in 2005.
The storm caused chaos, as it destroyed properties, flooded the New York subway system and disrupted power supplies.
However, Lloyd's - which consists of about 80 insurance syndicates - said the market could cope with the level of claims being seen.
Lloyd's chief executive Richard Ward said: "As always, our priority is to pay valid claims as quickly as possible and help the communities in North America and the Caribbean affected by Sandy get back on their feet.
"The Lloyd's insurance market remains financially strong and, while claims from this storm could still evolve over time, the market's total exposure is well within the worst-case scenarios we model and prepare for."