Costs of disasters 'fell in 2012 to $140bn'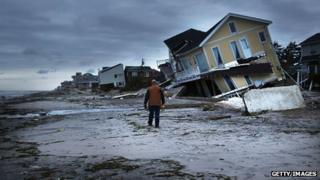 Natural and man-made disasters this year will cost at least $140bn (£85bn; 104bn euros) according to a report by the Swiss Re insurance group.
The most expensive losses were in the US, where the damage wrought by Superstorm Sandy alone is estimated at $45bn.
The total is drop on 2011 when total economic losses from natural disasters were put at more than $350bn.
That record total was chiefly due to the earthquake and tsunami in Japan.
But the 2012 figure is above the recent average and insurers will have to pay out about $65bn, the report said.
All the top five losses were in the US.
Besides Superstorm Sandy, there was the severe drought which gripped the Midwest in the summer, costing insurers and farmers more than $11bn.
Earlier there had been a costly tornado season in the spring and a series of severe thunderstorms in late June and July.
More than 11,000 people lost their lives in disasters in 2012, the report said.