Alcohol duty fraud: Action needed, say off-licences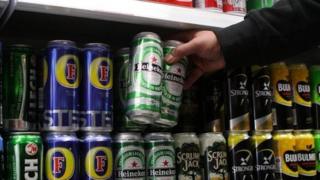 UK tax authorities are not doing enough to tackle alcohol duty fraud, claims a leading off-licence chain.
Bargain Booze told the BBC that the number of stores telling HM Revenue and Customs that they face illegal competition is rising.
Last year HMRC received over 600 reports to its tax hotline relating to alcohol fraud.
The Revenue said it acted on every piece of intelligence, but admitted investigations could take years.
The government has given HMRC £17m to tackle the gangs behind the fraud.
'Paper event'
Alcohol duty fraud in the UK often involves exporting alcohol to the EU - untaxed - and then bringing it back into the UK with false paperwork.
This method exploits EU rules which state duty does not have to be paid on alcohol when it is being transferred between registered producers or wholesalers - it is only paid when it enters the marketplace.
But the BBC's 5 live Investigates programme has learned that some lorries containing duty-unpaid alcohol meant for export never even leave the UK.
"Increasingly it's just a paper event - the lorry never goes abroad, so the actual product never leaves the UK. The lorry just stops on a lay-by somewhere and gets turned around," says Keith Webb, acting managing director of Bargain Booze.
The illicit alcohol ends up in the hands of rogue wholesalers and retailers who then sell it on at prices which legitimate traders say are only possible if duty has been evaded.
A study published by the All Party Parliamentary Beer Group earlier this year, said HMRC estimates up to 1 in 5 cans and bottles of beer sold in the UK is illicit, and beer smuggling could be costing the Treasury around £500m per year in lost duty alone.
Representatives from the alcohol retail industry claim the total cost to the Exchequer could be billions of pounds: "HMRC view the loss of revenue to the Exchequer at £1.2bn, but that excludes wine. Within the trade, the real cost to the Exchequer is viewed as something in excess of £4bn a year," says Keith Webb.
Illegal off-licences
5 live Investigates visited one suspected illegal wholesaler in the North West of England - a warehouse on an industrial estate. The programme team saw a wide range of alcohol being sold at very low prices, compared to what is offered on the high street.
For example, six bottles of Echo Falls Chardonnay was priced at £16.99 and 24 cans of Foster's lager was £13.49.
A leading legitimate cash-and-carry operator said it could not find beers and wines so cheap even at wholesale prices, let alone match the on-the-shelf price offered to members of the public.
The cash-and-carry owner, who did not want to be named due to fear of reprisal from criminal gangs, says it would have to pay around £19.35 for a box of six bottles of Echo Falls Chardonnay - of that, £11.40 would be duty.
The same amount and brand of lager would cost £16.56, with duty at £9.36 per case.
Another legitimate wholesaler based in the West Midlands told the BBC its beer sales have fallen by around £20m in the last seven years as a direct result of illegal wholesalers operating in the same area.
Another legal retailer in the North West of England said it may stop selling alcohol altogether in the next 10 years because it cannot compete with the illegal trade.
"There are outlets all over the country which are selling at prices we couldn't even get close to matching and nobody's stopping them," says David Visick from The Federation of Wholesale Distributors.
"That's the responsibility of HMRC, but HMRC is more interested in chasing the problem to the root, to find the big criminals gangs who are behind this."
Tackling criminal gangs
The BBC has been told one wholesaler suspected of alcohol fraud has been reported to HMRC over 30 times in the last 18 months - yet is still operating.
Sixteen people were convicted of alcohol fraud between 2009/2010, according to HMRC figures, and 40 civil penalties have been issued this year.
"We could chalk up a cricket score of prosecutions of small players and pawns in the organisations and that would make our outputs look good," says Andy Leggett, HMRC's deputy director of alcohol, tobacco & gambling taxes.
"But the reality is, that would have zero impact on the fraud because those people would be replaced within days."
The government has allocated £917m to HMRC to tackle tax avoidance, evasion and criminal attack over the next four years - £17m of that is to specifically target the organised criminal gangs behind alcohol fraud.
"Every single piece of intelligence is acted upon, but that does not necessarily mean we will go and knock on that specific door in the next week," says Andy Leggett. "That may lead to an investigation many years down the track or may lead to an investigation elsewhere."
Mr Leggett says HMRC is determined to tackle the criminal gangs, but disrupting their trade takes time. Enforcement officers will use criminal prosecutions and civil penalties to dismantle the illicit trade, but he acknowledges the frustration felt by other traders operating lawfully.
Earlier this year, HMRC smashed a £50m-a-year alcohol tax evasion scam - the biggest uncovered. The gang imported beers and wines from France duty-free for onward export, but the stock never left the UK and was diverted for sale without taxes and duties being paid. The ringleader, Kevin Burrage, was jailed for 10 years.
You can listen to the full report on 5 live Investigates on Sunday, 23 December, at 21:00 GMT on BBC 5 live. Listen again via the 5 live website or by downloading the 5 live Investigates podcast.