Bushmaster gunmaker stake to be sold by Cerberus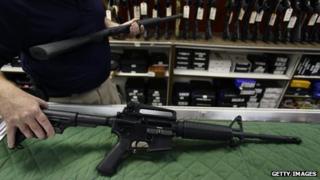 A US private equity firm has said it is to sell its stake in the maker of the AR15-style rifle used in the Newtown school shootings.
Cerberus Capital Management's move came after pressure from one of its own biggest investors, the California State Teachers' Retirement System (Calstrs).
Cerberus bought Bushmaster in 2006, and more gunmakers since, merging them into Freedom Group, which it will now sell.
The firm said it wanted to avoid being drawn into the gun control controversy.
The announcement by Cerberus comes four days after 20 young children and six adults were killed by 20-year-old gunman Adam Lanza at Sandy Hook Elementary School in Newtown, Connecticut. Mr Lanza then killed himself.
He had earlier killed his mother at her home before travelling to the school.
The murders have renewed the debate over the need for gun control in the US, with President Barack Obama promising "meaningful action", and adding that "as a country, we have been through this too many times".
The National Rifle Association, the largest pro-gun rights organisation in the US, has not commented since the mass shooting.
Politicians previously against more gun control have also generally been quiet, while one, Virginia Democrat Mark Warner, said the Newtown attack had made him rethink his opposition to a ban on assault weapons.
However, gun control is difficult to tighten in the US, because the second amendment of the country's constitution guarantees the "right to keep and bear arms".
'Senseless violence'
"We believe that this decision allows us to meet our obligations to the investors whose interests we are entrusted to protect without being drawn into the national debate that is more properly pursued by those with the formal charter and public responsibility to do so," Cerberus said in a statement.
"We do not believe that Freedom Group or any single company or individual can prevent senseless violence or the illegal use or procurement of firearms and ammunition," the firm added, noting that Freedom Group only sold weapons to federally licensed dealers and distributors, and not directly to US citizens.
Freedom Group claims to be the world's largest manufacturer of commercial firearms, selling over two billion rounds of ammunition each year.
As well as Bushmaster, the maker of the AR15-style rifle, Freedom Group also owns Remington, the oldest US gunmaker established in 1816, and seven other gun arms manufacturers, as well as majority stakes in two clothing companies specialising in hunting and paramilitary apparel.
The group made profits before tax of $2.7m in the 12 months to September 2012, on $875m of sales.
Calstrs, which is the second largest pension fund in the US, had said on Monday that it was reviewing its own $750m (£460m) investment in Cerberus in light of the deaths of 20 school children and seven adults including teachers at Sandy Hook elementary school in Newtown, Connecticut last Friday.
Cerberus, which is one of the biggest private equity firms in the world with over $20bn of assets under management, said that the shootings represented "a watershed event that has raised the national debate on gun control to an unprecedented level".
Proceeds from the sale of Freedom Group would be returned to Cerberus' investors, and not reinvested by the firm.