Toyota fined $17.4m in US over safety report delay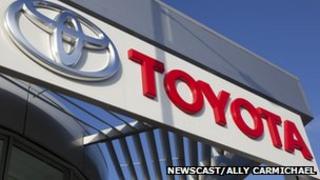 Toyota has been fined $17.4m (£10.7m) - the maximum allowed under US law - for taking too long to report safety issues to authorities.
It is the fourth time in the past three years that the Japanese car giant has been fined in the US, after paying out almost $50m in total during 2010 over its handling of car recalls.
The latest fine is for a recall in June of about 150,000 vehicles.
The carmaker has recalled more than 10 million vehicles this year.
Safety review
Last month, Toyota said it would recall 2.7 million cars worldwide because of problems with the steering wheel and water pump system.
In 2009 and 2010, Toyota recalled about 12 million vehicles, damaging its reputation for reliability.
"It's critical to the safety of the driving public that manufacturers report safety defects in a timely manner," said David Strickland of the National Highway Traffic Safety Administration (NHTSA).
The group said carmakers were obliged by law to report any safety defects within five days of discovering them.
It added that Toyota had agreed to make changes to quality assurance and to review its safety procedures in the US as part of the settlement.
The carmaker's chief quality officer Ray Tanguay said the company had agreed to pay the fine "in order to avoid a time-consuming dispute and to focus fully on our shared commitment with NHTSA to keep drivers safe".
Toyota expects to make a profit of almost $10bn for the financial year to the end of March.