UK house prices up slightly on last year, ONS says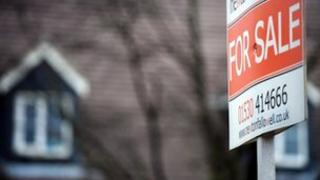 Average house prices across the UK have been rising, according to the Office for National Statistics (ONS).
Its latest monthly survey shows that prices rose by 0.2% on October, to leave them 1.5% higher than a year ago.
That left the average home in the UK costing £231,000.
The ONS figures contradict recent surveys by the Halifax and Nationwide, which have both said that house prices have fallen slightly during the past year.
On the ONS measurement, annual house price inflation has been fastest in London.
But even if London and the South East are removed from the figures, prices across the rest of the UK are still higher than a year ago.
"House prices continue to remain relatively stable across most of the UK, although prices in London are increasing and prices in Northern Ireland are falling," the ONS said.
"The year-on-year increase reflected growth of 1.8% in England and 2.8% in Wales, which were offset by a decline of 2.2% in Scotland and 11.7% in Northern Ireland."
Despite the year-on-year increase in prices, the figures do not suggest any sort of general revival in house prices.
Average prices have in fact slipped back from a recent peak of £234,000 in July and August.
Mark Harris, of mortgage broker SPF Private Clients, said: "The mortgage market is still constrained but is showing signs of easing, which will have a positive effect on the housing market.
"The Funding for Lending scheme continues to progress but it is a slow burner and no overnight solution for the woes of the market."