UK inflation unchanged at 2.7% in November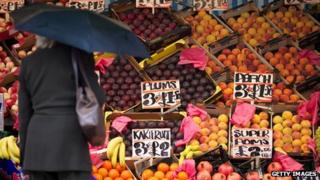 UK consumer prices inflation remained unchanged at 2.7% in November, according to official data.
The fastest price rises were seen in the cost of fruit, bread and cereals, as well as in energy bills, the Office for National Statistics (ONS) said.
Car fuel and plane ticket prices fell in November from the month before, as did the cost of carpets and beer.
Retail prices index (RPI) inflation, which includes housing costs, fell to 3% last month, from 3.2% in October.
The consumer prices index (CPI) rate, which is targeted by the Bank of England, had jumped from a three-year low of 2.2% to 2.7% in October, a much bigger rise than had been expected and which came as a nasty shock in the City.
Separate data released by the ONS also showed that the annual rate of increase in producer prices - charged by manufacturers for their products - also held steady in November, at 1.4%, excluding the more volatile prices of food and fuel.
Energy bills
CPI inflation is now expected by many investors and economists to creep up further next year as further increases in electricity and gas prices take effect.
"UK inflation paused for breath in November before it resumes its assault on the 3% mark over the next few months," said Rob Wood, economist at Berenberg Bank.
"The figures included the first of this winter's gas and electricity price rises, from Scottish and Southern Energy," he added, saying that the other companies' bill rises would push the inflation rate higher.
A further rise in supermarket food prices is also widely anticipated, after droughts in the US and Russia, and light monsoons in India, pushed up worldwide prices for grain and other foodstuffs.
CPI inflation has been above the Bank's 2% target for more than three years and until May this year had exceeded 3% for 29 consecutive months, prompting the governor Sir Mervyn King to write regular letters to the government explaining the Bank's failure.
The Bank has tolerated the elevated inflation rate because of the depressed state of the economy, which has led the Bank to consistently overestimate how quickly CPI would fall back to its target.
The Bank now expects inflation to fall back to its target only in the autumn of 2014.
New target?
Mark Carney, the Canadian central bank head who is due to take over from Sir Mervyn as governor from June, has hinted at the possibility of scrapping inflation targeting.
That has led to speculation that the Bank may switch to an alternative target - with nominal gross domestic product (NGDP) seen as the most likely candidate.
NGDP measures the economy's total economic output, but without adjusting for rising prices.
Targeting NGDP instead of CPI inflation would enable the Bank to tolerate higher inflation during the current period of depressed economic growth, and would also oblige the Bank to seek an even faster rise in prices if it had fallen short of its target in previous months.
Some economists think that the resulting bias towards higher inflation - at least while the economy remains depressed - would help to make debts more manageable by eroding their value, and would encourage people to spend more for fear that their savings would also be eroded by rising prices.
Opinion is divided among analysts as to whether the Bank of England is likely to push ahead in its next monetary policy meeting with more monetary stimulus - likely to come in the form of further purchases of government debt with newly created money, or Quantitative Easing.
"Higher inflation makes it harder for them to restart QE," said Alan Clarke, economist at Scotiabank. "I don't think it makes any difference to the Bank of England. They know these things are outside of their control. Gas bills, droughts, they can't control that."
Some Monetary Policy Committee members have resisted increasing QE in recent meetings, according to minutes released by the Bank, with one member, Paul Fisher, publicly saying that he would wait for inflation to start falling before he would personally endorse more money creation.