Rank faces casino sales for Gala takeover approval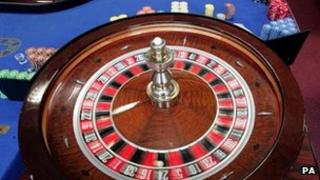 Rank Group may have to sell some casinos in order to win approval for a takeover of Gala Casinos, the Competition Commission has said.
In a provisional ruling, the commission said a merger could damage competition in six areas of the UK.
As a result, Rank may have to sell, or be prevented from buying, casinos in these areas for the deal to go through.
Under the deal announced in May, Rank planned to buy Gala's 23 casinos and licences to operate three more.
However, the takeover was referred by the Office of Fair Trading (OFT) to the Competition Commission in August, with the OFT citing "concerns the merger will substantially reduce competition in the casino sector".
Although the takeover offer lapsed in September, Rank said at the time that the two firms were continuing discussions over a tie-up.
The Competition Commission noted that Rank and Gala were two of the three largest casino operators in the UK. If the merger goes through, there will be just two national casino chains - Rank and Genting.
The commission said there were five areas where there were worries that competition could be hit by Rank's takeover of Gala - Aberdeen, Liverpool/New Brighton, Stockton-on-Tees, Bristol and Cardiff.
In addition, there was also concern over the impact in Edinburgh, where Rank holds a licence to develop a new casino.
Professor Martin Cave, chairman of the Rank/Gala Inquiry Group and Competition Commission deputy chairman, said: "Our concern is that with two of the national players merging, this will leave a number of areas with much reduced competition where casino customers could consequently lose out through a poorer casino offer.
"We are now going to look at the most effective way to preserve competition in these areas and whether this can be achieved in a way that allows an amended version of the deal to go ahead."