Bank lending scheme progress 'encouraging'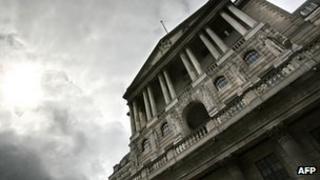 A scheme which aims to boost lending to businesses and home buyers is beginning to work, the Bank of England has said.
The Bank launched its Funding for Lending (FLS) scheme at the start of August to channel up to £60bn of cheap money to banks and building societies.
The aim is that this money should then be lent to individuals and companies to help stimulate the economy.
The Bank warned that a clear picture would not emerge until next year, but said the early indications were good.
"FLS should lead to more and cheaper credit flowing into the real economy than otherwise," said the Bank in its latest quarterly bulletin.
"Early signs have been encouraging: market funding costs for UK banks have fallen sharply and many loan rates have fallen.
"But given the usual lags from credit being offered to loans being made, the FLS is unlikely to materially affect lending volumes until 2013," it pointed out.
Earlier this month, the Bank reported that in the scheme's initial two months, only £4.4bn of this extra money had been taken up, and by just six lenders.
Analysts say that one knock-on effect of FLS has been to drive down the interest rates offered to savers on their savings accounts, to even lower levels than before, as banks and building societies are now under less pressure to raise funds from the public.
'Cautious optimism'
The FLS is just one of several initiatives that the Bank and the government have overseen in a series of repeated attempts to drive growth in the economy since the start of the international financial crisis in 2007.
The Bank's base rate has, for nearly four years, been kept at a record low level of just 0.5%.
And the Bank has attempted to pump £375bn of extra money into the banking system via its policy of quantitative easing (QE).
"Despite this... output has been broadly flat over the past two years," the Bank's bulletin said.
Meanwhile, small firms are "displaying cautious optimism" heading into 2013, according to a survey by the Federation of Small Businesses (FSB).
Its latest Small Business Index, which measures confidence in the sector, recorded a score of -5.6 for the October to December fourth quarter.
While this means a small majority of firms remain pessimistic, it is much better reading than the -24.5 score for the same period last year.
Mike Cherry of the FSB told the BBC that the Bank's lending scheme was starting to have an effect.
"The cost of borrowing is beginning to slightly fall, so there is some sign that FLS is having an impact," he said.
"There has been an increase in the number [of loans] that have been approved straight away,"