Ministry of Defence to sell part of its radio spectrum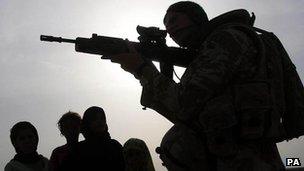 The Ministry of Defence says it will auction some of the radio frequency it owns in a move that will increase the capacity for 4G mobile services.
The spectrum being sold is below the 15GHz frequency, which is seen as the most useful type because it can be used for a wide range of communications.
Mobile phone and broadband suppliers are seeking access to more spectrum.
Demand for this is mounting, fuelled by rising use of data-hungry devices such as smartphones and tablets.
The sale, which will take place in 2014, will give private operators the chance to buy more spectrum to support the introduction of fourth-generation (4G) mobile services to people in cities, towns and villages across the UK., which will allow much faster download speeds.
Alternatively, the spectrum could be used by fixed-line operators to provide wireless access to broadband services.
The EE mobile phone network, formed by the merger of Orange and T-Mobile, is the only UK operator already offering 4G.
The Ministry of Defence (MoD) says it owns a lot of spectrum - around 75% of that which is publicly held.
It says it does not need all that and that the part up for sale is being cleared of military users.
It is currently used for a broad range of services including defence, emergency services, transport and science.
The minister for defence equipment, support and technology, Philip Dunne, said: "We welcome this opportunity to free up much-needed spectrum.
"We hope that the sale will help drive the roll-out of new generation networks and universal access to broadband, both of which are vital to the UK's prosperity."
The government has been planning to take this action for some time.
It said in its 2010 spending review that at least 500MHz of public spectrum below 5GHz would be released by 2020 for new mobile communications uses.
Recent auctions of extra capacity have proved successful in the Netherlands and the Republic of Ireland.
In his Autumn Statement, the Chancellor, George Osborne, said he expected to raise £3.5bn from a separate auction of spectrum coming up in the spring of next year.
That is way above the regulator Ofcom's estimate of £1.3bn.
Analysts are divided over the potential value.
Consultants PwC think Mr Osborne's figure - which was supplied by the independent Office for Budget Responsibility - is within its own estimated range of £2bn-£4bn.
But Matthew Howett, regulation analyst at telecom consultants Ovum, said it was too difficult to estimate what companies would be willing to pay.
"Trying to guess how much money a spectrum auction can raise is a bit of a fool's game," he said. "It depends on bidding strategies and you don't know how people will behave when they go into an auction
"We were all taken by surprise when the government came out with the £3.5bn value."
Ofcom's deadline for bidders to register an interest in buying new spectrum was 11 December and five companies are thought to have done so.
Related Internet Links
The BBC is not responsible for the content of external sites.