Santander absorbs Banesto and Banif and shuts branches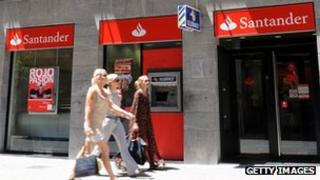 Banco Santander is to absorb two Spanish banks, Banesto and Banif, closing 700 branches in the process.
It owns 90% of Banesto and will buy out the minority shareholders with Santander shares at a 25% premium. It already owns all of Banif.
The three banks have 4,664 branches in Spain between them. All the remaining branches will be branded as Santander.
Santander predicted that the merger would save it 520m euros ($684m; £422m) a year in three years' time.
It said that the merger was part of the restructuring of the Spanish financial system.
Santander did not say how many jobs would go, but said job cuts would be implemented gradually through transfers around the group, natural turnover and voluntary redundancy.
It added that the proportion of Spanish bank branches owned by the group would increase by 2015 despite the closures, because other banks were also cutting back their networks.
Santander said the total number of bank branches in Spain was expected to fall to 30,000 by the end of 2015, down from 46,000 in 2008.