Shinzo Abe's challenges in reviving Japan's economy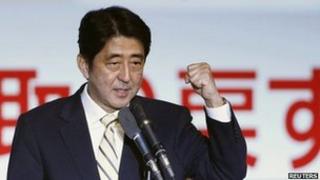 The Japanese like to remind each other that a hasty commitment or promise should not be trusted.
It is a message that Shinzo Abe, the man set to become the country's next prime minister, would do well to remember as he goes about trying to fix Japan's fragile economy.
Not least because his party won a landslide victory in Sunday's election on a platform of promises that voters seem to have taken to heart.
After decades of stagnating growth during which time Japan was overtaken by China as Asia's biggest economy and the world's second largest, Mr Abe's vow to spend whatever was needed to get the country going again proved decisive.
But even before he is sworn in later this month, questions are being asked about whether he will be able to meet some of the targets he has set.
Printing money?
One of the those targets is an inflation rate as high as 3%.
Although this may sound reasonable to many nations in the region, which are facing much higher rates of consumer price growth, it is a very different picture in Japan.
The country has been battling deflation, or falling prices, for the best part of a decade.
It has been a key brake on Japan's efforts to spur domestic demand as consumers tend to put off purchases in hope of getting a cheaper and better deal later on.
For its part, the Bank of Japan (BOJ) has set previously a target of a 1% rate of inflation, but it has said it may only be able to achieve that in the 2014-15 financial year.
Mr Abe has suggested that the central bank should print an "unlimited" amount of yen as a measure to help fight falling prices. The idea is that with more money sloshing about the system, everyone should more have cash in their pocket and be happier to spend.
However, analysts say that while Japan needs consumer price growth and such a move by the central bank may help achieve it, a sudden jump in inflation may hurt the country.
"If you have 3% inflation rate, businesses will have to keep pace in terms of wage growth," said Yuuki Sakurai, chief executive of Fukoku Capital Management.
He added that if businesses, especially manufacturers, had to increase wages it could hurt their competitiveness at a time when they have already been losing ground to regional competitors.
Mr Abe "is not fully aware of what he has said and what the implications could be", Mr Sakurai added.
Currency headache
Mr Abe has also promised to implement policies to weaken the yen - an issue that has been at the heart of Japan's economic problems in recent times and something his plan for spending could also help tackle.
Between April 2011 and November 2012, the yen rose by 6% against the US dollar.
It has proved a headache for policymakers who have tried to weaken it. This is because a strong yen makes Japanese exports more expensive for foreign buyers, and also cuts the value of exporters' foreign profits.
However, since Mr Abe promised to stimulate the economy by spending, the yen has fallen almost 6% since November. It hit a 20-month low after the exit polls indicated a win for Mr Abe.
While a weak yen is good news for the country's exporters, a drastic drop in its value may also bring problems - not least because of the recent jump in imports of energy sources such as oil and natural gas.
Japan has been forced to increase energy imports after it shut down all of its nuclear reactors after last year's earthquake and tsunami. Though two of the country's 50 reactors have since been restarted, it is highly unlikely that any more will be up and running in the near future.
Nuclear power accounted for almost one-third of Japan's energy supply before the reactors were shut. Japan is now having to meet that shortfall by producing electricity from more traditional fuels such as crude oil and natural gas.
A significantly weaker yen would mean power companies having to pay more for imports, and these costs are likely to be passed on to businesses and consumers, which may end up hurting their ability to spend.
Analysts said that Mr Abe may find it tricky to manage policies aimed at weakening the yen given that most nuclear reactors in Japan may remain shut for a long time.
"It will take anywhere between five to 10 years before we seen any change there and the energy costs are likely to keep going up," said Junko Nishioka, chief economist at RBS Securities in Tokyo.
BOJ control
Another of Mr Abe's proposals has been to get the Bank of Japan to take more measures to help revive the economy, including buying government bonds.
Mr Abe wants to boost government spending on public-works and infrastructure in an attempt to spur growth, and he had said he wanted the central bank to buy government bonds to help finance the increased spending.
However, analysts said it was unlikely that the central bank would buy bonds directly from the government, something which Mr Abe had initially suggested - before toning down his rhetoric.
They said that if the central bank started to buy bonds directly it would mean the government could spend as much as it wants.
"If that happens, Japan's public debt will start to get devalued," said Martin Schulz of Fujitsu Research Institute.
"That would open up a whole new set of problems, including a sharp rise in borrowing costs for the government," he added.
Mr Schulz explained that a rise in borrowing costs would mean that Japan would have to issue even more bonds to service the interest on its existing debt and that would create further problems for the government.
A devaluation of Japan's debt may not also go down well with the public.
"A large amount of Japan's debt is indirectly held by Japanese households through the country's banks and pension funds and any devaluation in government debt would eventually mean a devaluation in their assets," said Mr Schulz.
If that were to happen, the biggest losers would be the ones who will decide Mr Abe's political future in the coming years - the voters.